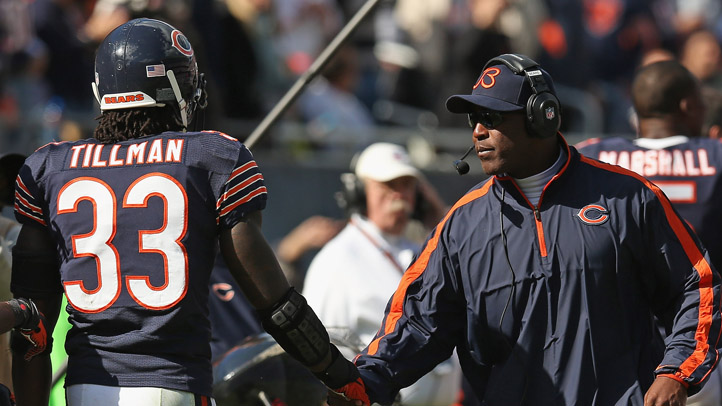 It was a long NFL Sunday to wait through without a Bears game, but Chicago gets the ultimate spotlight on Monday Night Football. What do you need to know before the Bears kick off at Jerry Jones' extravagant stadium?

Will Matt Forte play? After a week off because of a sprained ankle, Matt Forte said last week he is going to play on Monday night. However, he and receiver Earl Bennett were listed on the Bears injury report as questionable, which means there is a 50/50 chance they'll play.

Which Tony Romo will show up? In the season opening win against the Giants, Romo threw for 307 yards and three touchdowns. Since then, he's been OK but not great. If the same one who beat New York shows up, the Bears are in trouble.

Has the offense gotten its act together? Against the Rams, the Bears offense looked sluggish and out-of-rhythm. While the defense played well enough to win the game, the offense showed many weaknesses. The Bears will need to contain the 'Boys defense and get in sync to win this one.

Field day for the defense? Coming into Week 4, the Bears lead the league in sacks. Against the Bucs last week, the Cowboys' line gave up four sacks and was held to just 38 yards on the grounding. If the Cowboys hold true to form, it can be another statement-making, havoc-wreaking game for Chicago's defense.

Another big test for the line: DeMarcus Ware and Anthony Spencer both have been successful at getting at the quarterback. Though Spencer may not play, the Bears wil need to be creative in stopping both men, using tight ends and running backs to help on blocking assignments.

Monday night lights: While your lasting primetime memory of the Bears may be Jay Cutler getting sacked nine times in the first half by the Giants, the Bears are actually quite good on Monday nights. Their record under Lovie Smith on MNF is 7-2. However, the Bears are down 9-11 all-time to Dallas.
Copyright FREEL - NBC Local Media