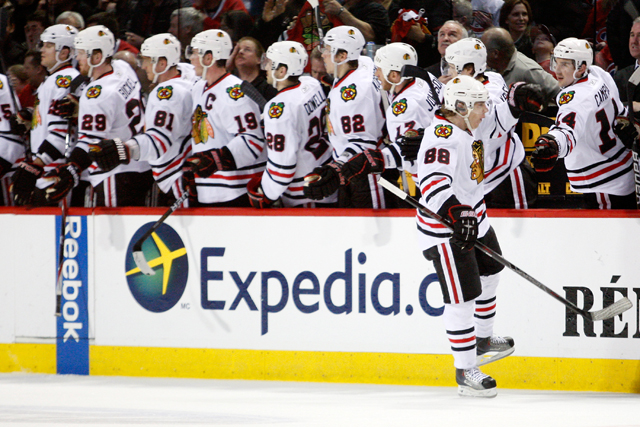 After a preseason game in Detroit on Sunday, Coach Joel Quenneville let slip that the Blackhawks were going to try Patrick Kane at center. They'd admitted he'd been playing there in training camp, and Kane on Tuesday told reporters that Stan Bowman had asked him about it in the summer.

Based on quotes to Adam Jahns in the Chicago Sun-Times, Kane isn't exactly thrilled.
Let's cut through the debate on both sides on whether Kane is equipped to handle the position (he isn't), and get to what's really at the matter here:

Coach Q is essentially telling his GM through the press that he doesn't have any answers for the No. 2 center role.
He's telling Bowman that the first solution -- Marcus Kruger -- isn't viable. How do we know? Kruger centered for Jeremy Morin and Brandon Saad at practice on Tuesday, two players who will not be starting the year the United Center. In fact, it doesn't look like Kruger will be ,either.
Patrick Sharp is coming back from injury and only just beginning to skate this week, so that's a pretty big indictment on Kruger. Brandon Pirri has looked better than Krueger, too, and Pirri is certainly not going to make this club.

Given the fact that Quenneville looked over his roster and decided Kane was the best option, you can write off Kruger for at least the first month.
None of this tells us what they plan to do with Sharp when he returns from injury, but you get the feeling they want to put him on a wing.
But moving Kane to center and Sharp to wing would be like putting your right shoe on your left foot and vice versa, staring at your feet for a while, and deciding the whimsy of the action was well worth the clumsiness that was about to ensue. But you still fall over and you still look a divvy.
Kane is one of the 10 best wingers in the league, and I don't hesitate in saying that. You don't make a team better by then shifting him to a position he hasn't played at any accomplished level and for which he isn't suited.

He isn't defensively sound enough, can't take a draw, and most of his play-making is done in space, not in tight that it would have to be as a pivot-man.
What Q is really saying here is that unless Pirri or Kruger light it up in the AHL, Bowman is going to have to go out and get a center somewhere.

There are some candidates: Sam Gagner in Edmonton, Mikail Grobovski in Toronto are just a couple names with expiring contracts on bad teams that could be dangled. But neither would seem to be a better option than Sharp.

The Hawks have apparently decided to challenge themselves and not use that one.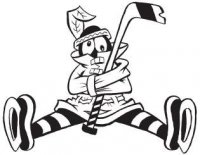 Sam Fels is the proprietor of The Committed Indian, an unofficial program for the Blackhawks. You may have seen him hocking the magazine outside the United Center at Gate 3. The program is also available for purchase online. Fels is a lifelong 'Hawks fan and he also writes for Second City Hockey .