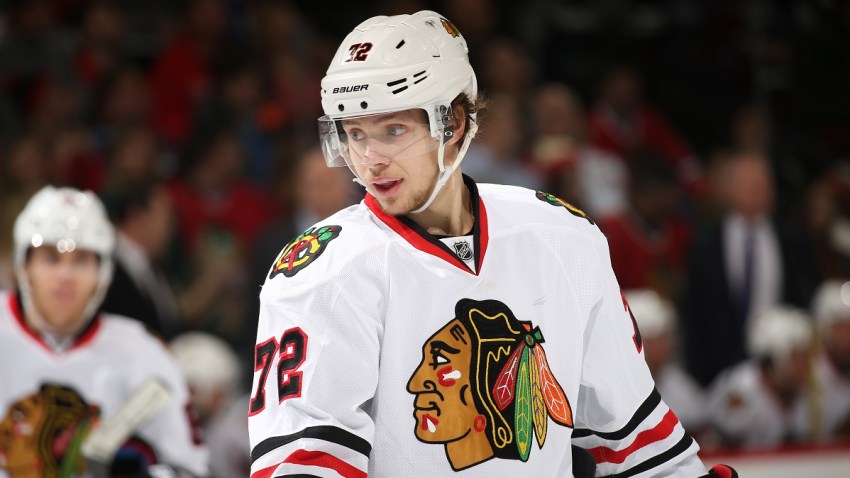 Artemi Panarin beat Marc-Andre Fleury 3:47 into overtime to lift the Chicago Blackhawks to a 3-2 victory over the Pittsburgh Penguins on Tuesday night.
Panarin finished with two goals, including the winner off a feed from Patrick Kane as Chicago fended off resilient Pittsburgh, which rallied from a 2-0 deficit in the third period behind goals from Sidney Crosby and Kris Letang.
Jonathan Toews got his 14th goal of the season for Chicago. Kane finished with two assists to boost his point total to an NHL-best 59. Corey Crawford made 34 saves for the Blackhawks, who have won four straight.
Crosby scored his 12th of the season and sixth in six games to start Pittsburgh's comeback. Letang added his fourth with a shot from the point with 2:50 to play to force overtime. Fleury stopped 27 shots in the first game of a home-and-home with the defending Stanley Cup champions.
Chicago appeared to be firmly in control going into the third and managed to improve to 17-0-1 when leading after two, but it wasn't easy.
Crosby gave Pittsburgh life when he ripped a wrist shot by Crawford's blocker 5:54 into the third. He nearly added another after the ensuing faceoff only to have his shot beat Crawford but hit the post.
Letang finally tied it with less than 3 minutes remaining when his blind shot from the point emerged from a sea of jerseys to slip by Crawford's glove.
It set the stage for a dazzling back-and-forth extra period, with the 3-on-3 format creating wide swathes of open ice for two of the league's most skilled teams. They traded opportunities — with Fleury making a doorstep stop on Marian Hossa on one end and Crawford denying Phil Kessel twice at the other — before Kane set up Panarin for his 13th of the year.
The Penguins earned at least one point for the sixth time in their last seven games and appear to be figuring things out under Mike Sullivan, their once-sleepy offense getting a need jolt from its stars and a rejuvenated power play that was converting nearly 40 percent of its opportunities since Dec. 19.
Still, Pittsburgh came in on the outside of the playoffs looking, not exactly the place the Penguins and their cap-strapped roster built to win now — right now — want to be nearing the season's midway point.
There are no such concerns in Chicago, which seems to have avoided any sort of letdown following a third Stanley Cup in five years last spring. The Blackhawks are the dynasty Pittsburgh envisioned it would become when Crosby and Malkin raised the Cup in 2009. Six-plus years later the Penguins are still waiting to bookend that glorious run while Chicago chugs right along behind Kane, Toews and a style of play that seems to translate regardless of the opponent.
Sullivan has spent his first few weeks on the job repeatedly telling his players to get themselves and the puck to the net, preferably in that order. The evidence his message is starting to seep in came during wins over Detroit and the New York Islanders last week, which included a stretch in which the Penguins scored 10 straight goals.
Yet old habits are hard to shake. Pittsburgh still has a tendency to overpass. Chris Kunitz opted against a wide open shot from the left circle in the first period in favor of trying to thread something across the ice to one of his teammates. It was tipped out of harm's way.
Pittsburgh's best sustained pressure came midway through the second but couldn't sneak anything by Crawford and Chicago countered with a 2-on-1 between Kane and Panarin that ended with Panarin burying a one-timer off a feed from Kane to put the Blackhawks up 8:47 into the second.
Chicago doubled the lead late in the second when Brent Seabrook banged a shot from the right circle off of Toews in front of the net with 1:14 to go only to see the advantage disappear during arguably Pittsburgh's best period of the season.
Copyright AP - Associated Press