Jorge Manalang is credited with "saving the day in Chicago."
How?
By ramming a rogue beverage cart spiraling out of control on a tarmac at O'Hare Airport with another vehicle before it could harm any of the numerous employees on the ground. The wild moment was all captured on viral video seen by hundreds of thousands of people as of Tuesday.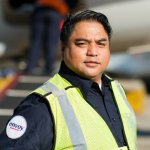 The catering vehicle, the airline said, was parked by an Embraer 140 aircraft as beverages were being loaded for the outbound flight. A case of water slipped onto the gas pedal and sent the cart "spinning wildly in reverse," according to officials.
The cart narrowly missed numerous employees standing in the area before Manalang, an Envoy ramp instructor, "jumped onto a push-back tug and intercepted the cart at just the right moment, flipping it over and out of harm's way."
"I'm incredibly proud of Jorge's actions – he not only prevented severe damage to the aircraft, but more importantly, he prevented what could have been serious injury to his fellow ramp employees or our customers onboard," Ricky Deane, Envoy vice president in Chicago, said in a statement. "He demonstrated the 'safety first' focus that we have here at the hub – it's the foundation of everything we do."
The six-year veteran of Envoy said he was "just doing my job."
"Safety is our number one priority and I did not want anyone to get hurt, so I used the pushback to stop the cart," he said in a statement.
Envoy said it is planning a "special recognition" for Manalang as a thank you for his "heroic effort."
American Airlines said the incident was under investigation.
"We appreciate the quick action of our team member who stopped the vehicle," the airline said in the statement. "Safety is our top priority and we are working with our partners to investigate the incident."