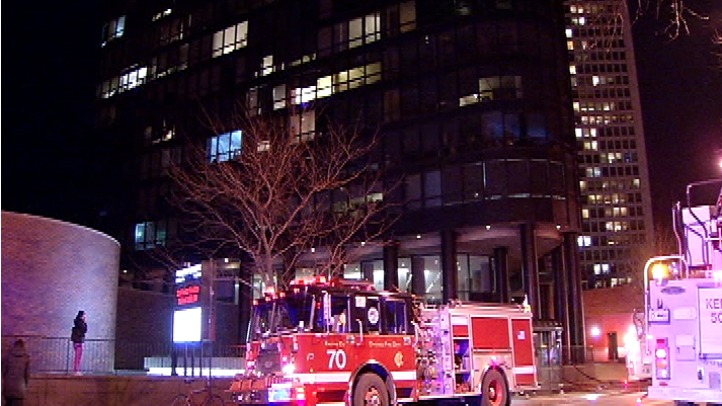 An Edgewater high rise apartment building which was the site of a weekend fire was also the site of a fatal fire in April of 2010. It did not have sprinklers, and the city has approved a safety plan which will not require them in the future.

In that earlier fire, 44-year-old Leela Rani Choudary died when a fire began in the couch in her 38th floor apartment. It was believed the fire started from a candle burning in the apartment and the victim died from smoke inhalation.

At the time, investigators said the woman may have died before firefighters arrived because smoke detectors were not activated until the smoke seeped into the hallway. It took fire crews took about 40 minutes to control the fire, which started shortly after 4am.

In the latest fire in that building, the Park Tower Condominiums, two people were hospitalized after fire broke out in an apartment on the building's 51st floor early Sunday morning. More than 100 firefighters responded.

Park Towers, at 5415 N. Sheridan Rd., is one of over a thousand pre-1975 high rises which fall under grandfathered provisions of the city's controversial fire code. National fire officials have blasted Chicago's code as inadequate, because it does not mandate sprinkler systems for older residential high rises.

In its latest inspection, the fire building was listed as "accepted with upgrades." That meant it did not comply with Chicago's life safety evaluation ordinance, but would pass provided certain upgrades, slated for future work, were actually performed.

The building owners have promised to verify that all stairwell doors can withstand fire for one hour. They have also assured the city they will implement an enhanced communication system in the building, and were in the process of installing an automatic recall feature on elevators when the inspection was performed.

Those assurances were offered in October of 2009, and the city said if the owners made those improvements, the building would be in full compliance. But sprinklers were still not part of the plan.

Last month, the Chicago City Council gave building owners until 2015 to complete fire upgrades which had been mandated for 2012.