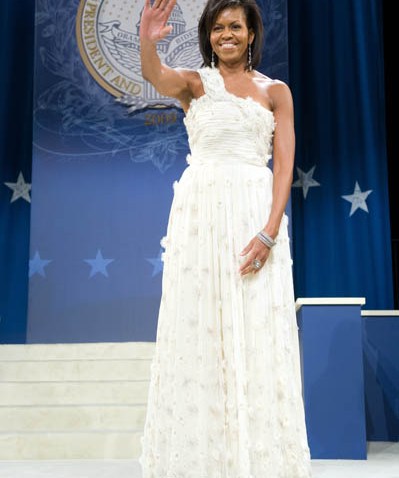 Michelle Obama will donate her Jason Wu-designed inauguration gown to the Smithsonian, the White House reports.
First Ladies have a long tradition of gifting their gowns to the august institution.
Obama will present her 2009 inaugural gown on March 9 to the Smithsonian's National Museum of American History. The gift is Obama's but the honor goes to Wu, a Chicago based couture designer.
Wu had a quick claim to fame when the First Lady wore his designs during the 2009 Presidential Inauguration. The 27-year-old Taiwanese born fashion designer will join the First Lady at the Smithsonian.
Wu told Access Hollywood that the First Lady's support has dramatically changed his career.
"I feel really fortunate… it's really the ultimate compliment to have the First Lady wear my clothes, I couldn't be more thrilled," said Wu. "One thing that makes me extremely happy is to be a part of history…more so than as a designer, as person, that's amazing!"
The First Lady's fashion has had all fashionistas watching her closely.
"Michelle Obama's style is timeless and classic and truly confident…truly confident and optimistic," said Wu.