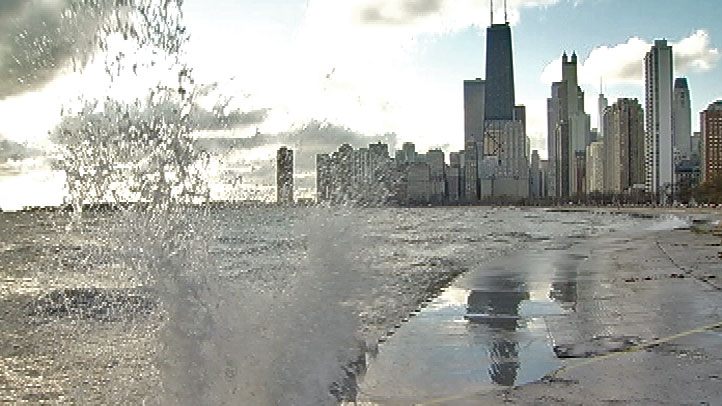 The massive storm that continues pouring heavy rain across the area has filled up Chicago's underground system that manages sewer backup and flooding, forcing the city to re-reverse the river.

The 109.4 mile system known as the "deep tunnel" reached its 2.3 billion gallons of water on Thursday while four inches of water rained down on Chicago. All of the tunnel's contents, a combination of storm water runoff and sewage, were rerouted to Lake Michigan.

"The tunnel system is full, so that means it reverts back to before [the system was built]," supervising civil engineer Ed Staudacher said. In 1900 engineers reversed the flow of the Chicago river to flow away from Lake Michigan to alleviate sanitary concerns.

Residents, however, needn't be concerned about the quality of their drinking water, according to a Chicago Dept. of Water Management spokesman.

"When those locks are opened by the Metropolitan Water Reclamation District, combined sewage is allowed to go out into the lake, but it's so far away from the intake cribs that we use that what we do, just as a matter of precaution, we introduce a little bit more chlorine into the water and we step up our monitoring," Tom LaPorte explained. "We built those cribs a century ago, that far out into the lake, just because of the sewage problems from the storms."

The MWRD staggered the opening of Navy Pier, O'Brien, Lockport and Wilmette locks.

"It's been utilized. It's full, we have everything open Wilmette to Lockport," a Water Reclamation District spokesman said. "Whatever we can open are open."

The last time the deep tunnel filled beyond capacity was in 2011, but it's certainly not the only time its contents got out. A wall to the deep tunnel was damaged on April 13, 1992, sending millions of gallons of water into the basements of buildings throughout the Chicago Loop.

Staudacher said residents won't feel the impact of today's full tunnel and the lake won't be affected.

"We operate our system so it does not impact residents," he said, "so sewers don't back up."

Editor's Note: This post has been edited to clarify the cause of the Chicago Flood of 1992.