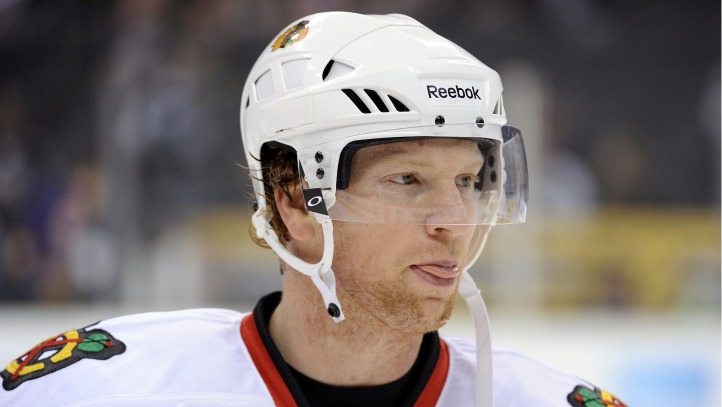 No player gets Hawks fans screaming at each other and thinking the other has suffered a stroke more than Brian Campbell.
And it's mostly due to his paycheck. Because of Hawks fans' unfamiliarity with a true puck-rushing defenseman -- much like Bears fans' inability to recognize what a real quarterback looks like or a Cubs fan's inability to recognize a good defensive player or true prospect -- Campbell is always behind the 8-ball with them. That's combined with how Campbell has refined his game to be more defensively assured and how he'll never put up boffo numbers that would justify the outlay to some.
Top it off with him being a smaller player and less physical, and it's death. But I'm not one of those and never will be. And outside of Corey Crawford, Campbell was the most consistent player the Hawks had this year.
Positives: We can start with the +28 which was among the best in the league, as were some of his more saber-metric numbers. Campbell was also the Hawks' best penalty killer for a long stretch, though some of that was due to Duncan Keith's dalliance with the Dark Side most of the year. Campbell's one-man breakout helped combat some of the more conservative opponents the Hawks faced. In the middle of the year, it was Campbell and Hjalmarsson who were seeing the last minutes of games out, not Keith and Seabrook. Still the best passer the Hawks have from the blue line, they could only be assured of a clean break-out when Campbell was spearheading it. Also was seemingly the only veteran voice in the room who was completely clear on what the Hawks were wasting away as they tossed point after point during the season. If only more of his teammates had listened.
Negatives: Health. This is the second straight season that Campbell has missed more than 15 games, partially accounting for his lowest point total in years. Due to those injuries he could get jumpy at times when faced with intense physical pressure. Wasn't as much of a factor on the power play as anyone would like, but then again he wasn't given as much time as he should have. Could get turnover prone at times, and was clearly hurting at the end when his worst traits came out. Hopefully the long summer will lead to a healing up.
Contract Status: Signed for four more years at $7.1 millon cap hit per.
Keep Him or Ship Him: There have been calls every year to try and lose Campbell, and with Nick Leddy playing the Anakin to Campbell's Obi Wan, they will only grow louder this summer. Even if that contract were movable, which it probably isn't, the Hawks cannot afford to lose 51 Phantom just yet. He gives the Hawks a premier puck-rushing d-man on the ice for at least 40 minutes a night -- when combined with a fully functional Duncan Keith. That is far too vital to the Hawks' game, the need to be able to turn defense into offense in an instant. Neither Leddy or Campoli could fill in for what Campbell does right now. Hopefully he can get healthy and stay that way, because he's far too important to be without. No matter what the mouth-breathers might think.