It's a comedy I couldn't write. It's a screenplay that wouldn't get bought. A story that wouldn't get published.
After giving up nine the last time they were in Edmonton, the Hawks backed that up in their return trip Thursday against the Oilers by giving up eight. I guess that's improvement.
It's games like this that cause fans to lose their sanity, to call for trades, firings and benchings. And it's nights like this when you can't really say they're wrong. Because who is above criticism after a night like this?
Still, when you cut out the farcical parts, the problems for the Hawks remain the same. Their goal tending is subpar, and because of that their penalty kill sucks, their second pairing and indeed entire defense is playing on eggshells, and the power play can't turn the tide of the game. It's really no different than at the start of the game.
What is worrisome is that the Hawks may be at the end of their game with Corey Crawford. This was a total meltdown. A game that had looked in complete control at 2-0 in the Hawks' favor was turned by a terrible shortside goal. It got worse when he once again lost his angles and net on a guy wrapping around from behind, which he's done multiple times. He whiffed on another.
Quite simply, the Hawks are very close if not completely out of time to wait on Crawford to discover his game, if indeed there is one to be discovered. Right now, the only samples we have of Craw are one very solid rookie season and this dreck that he's barfing up right now. The real truth could be either. To get his confidence back, he would need 10 games of competence at least. There's only 30 left. What if doesn't find if given that many chances? Then you're in the last month of the season.
And there's no solutions to be found via trade. At least not obvious ones. That's what's frightening, because really the goal tending is the problem in the roots of the tree, not the branches.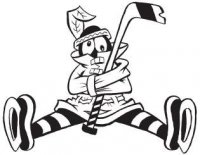 Sam Fels is the proprietor of The Committed Indian, an unofficial program for the Blackhawks. You may have seen him hocking the magazine outside the United Center at Gate 3. The program is also available for purchase online. Fels is a lifelong 'Hawks fan and he also writes for Second City Hockey .