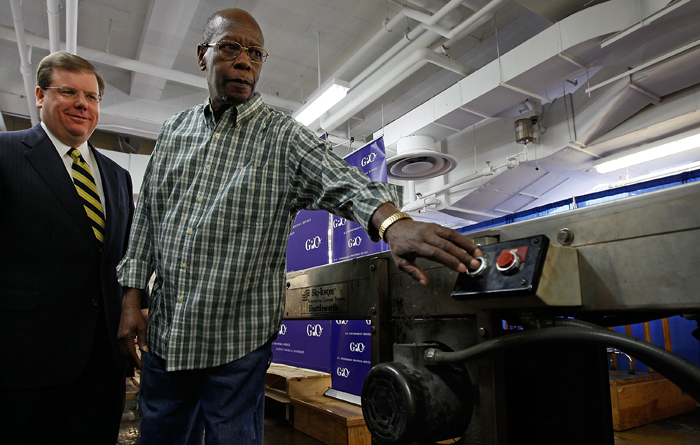 Finally, there's a better way to buy print. Marketing managers and corporate print buyers often assume that print must be purchased in the same outdated way it always has been, either directly from a print manufacturer, or using a local broker who can only reach a limited pool of printers. Buying print in this way leads to over-paying and inconsistent quality.
The printing industry is broken, and has been for decades. It suffers from a number of structural problems, including the high percentage of print jobs being produced on the wrong equipment to run the job most efficiently, unpredictable capacity fluctuations and significant pricing inconsistencies. Left to its own devices, the industry has failed to adapt to the modern era, leading to the following issues:
First, buyers often end up dedicating disproportionate resources in order to buy printed materials. Secondly, the print supplier market is one of the most fragmented of any global manufacturing industry; in the U.S. alone more than 30,000 independent printers are operating today, all of which have their own sales forces working to capture capacity for their presses regardless of whether it's a fit for the equipment or is in the best interest of the client. Third, significant excess capacity exists in the market, but limited means for identifying it leads to excessive pricing, which the client pays for.
These issues have combined to create an uneven playing field where buyers can't consistently obtain the best rates for print services. The good news is that the structure of this ancient industry is finally changing. There's a better way! The emergence of professional print management organizations is one of the most important developments in the print supply chain in decades.
The best print management firms provide clients with consistent quality and dramatic cost savings, and often do so by leveraging technology. Additionally, some offer comprehensive solutions combining print procurement with capabilities in related fields like creative design, data management, warehousing and fulfillment. Given Chicago's reputation as home to a burgeoning tech scene, it should come as no surprise that the most sophisticated technology solutions in the print management industry have originated in the Windy City, and that those tools serve Fortune 500 companies in the Midwest and beyond.
Print procurement within an organization demands valuable time and resources from your team. Streamlining this important process can help your organization run more efficiently and allow you to focus on your core business. A trusted print management partner can absorb the many tasks involved in your existing print workflow, freeing up your staff for more strategic, value-added, client-focused work.
Eric D. Belcher is President and Chief Executive Officer of InnerWorkings, Inc. (INWK), headquartered in Chicago. InnerWorkings is a pioneer in the print management industry, generating record revenue of nearly $634 million in 2011. With a global footprint extending across the Americas to Europe and beyond, InnerWorkings has become the preeminent international print management provider in an environment where multinational corporations are increasingly seeking one global print procurement partner.