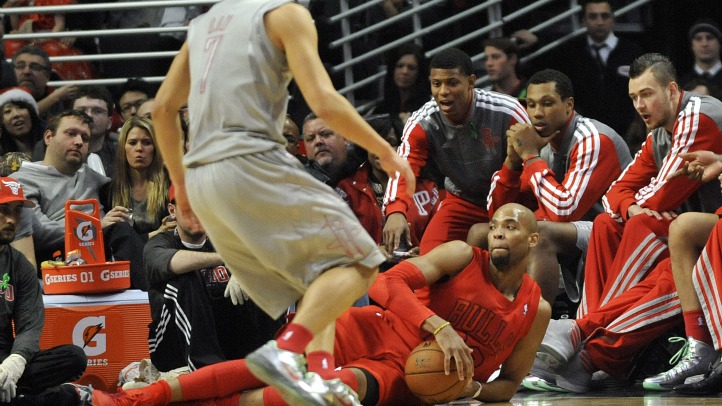 Instead of a gift-wrapped win on Christmas Day, the Chicago Bulls got a lump of cold shooting in their stockings and a 23-point drubbing at the hands of the Houston Rockets. Making matters worse in the 120-97 loss, the Bulls were burned – in their festive red uniforms – by their former backup center, Omer Asik, who became a Rocket in free agency over the summer.
It was a lackluster effort on the part of Chicago as Houston swept the season series over the Bulls, 2-0. Thankfully, the Bulls won't have time to dwell on the loss as they travel to Indianapolis to face the Pacers Wednesday night.
The Good
There wasn't a whole lot of "good" for the Bulls in this game, but if you had to pick something, it would be the play of Nate Robinson (27 points). The diminutive guard provided an offensive spark off the bench, helping Chicago's reserves outscore Houston's, 50-21. Marco Belinelli (15 points) shot the ball well and Luol Deng (14 points, five rebounds) had a decent game as well. But that's about where it ends with this category of the team's performance.
The Bad
Luol Deng twisted his right ankle in the first quarter of the game and was noticeably limping afterward, although he exited the United Center under his own power and didn't need a walking boot or crutches, a good sign that he'll be OK.
The Ugly
Where to begin? The Bulls shot 45 percent from the field while the Rockets shot a blistering 56 percent. The excellent defense that Chicago has been playing of late was nowhere to be found on Tuesday night as the team found themselves trailing by as many as 35 points in the third quarter. Houston also dominated the points in the paint to the tune of 66-32, rebounds 45-31 and fastbreak points, 31-8. The boxscore can tell you how poorly the Bulls starters played, no need for stats there, and then there was the aforementioned Omer Asik (20 points, 18 rebounds) who played like he really wanted to stick it to his old team. Despite having him on the roster for the last two years, the Bulls couldn't do anything to stop him or slow him down as his play just made fans even more angry that the team couldn't find a way to keep him around longer.
Follow "Outside Shot" on Twitter (@Outside_Shot) for more Bulls news and information.