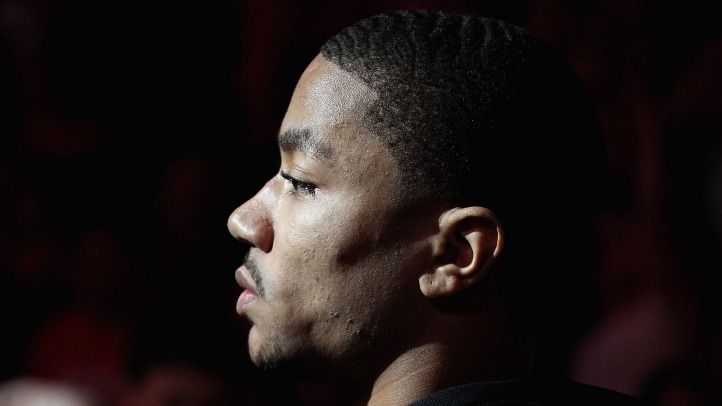 While it seems his fans have turned on him, those who know Derrick Rose best -- his teammates -- stand in support of the injured superstar.

Rose has received a ton of criticism for missing the entire 2012-13 campaign and quite possibly, the playoffs as well. Questions about his mental toughness and ability to lead have abounded, but his teammates stand in support of their comrade.
"We know him. We know his character. We see his work ethic every day. He's as dedicated as anybody I've ever seen to the game of basketball and to our team," Carlos Boozer told ESPN Chicago. "He's there every day; he doesn't take no days off. I don't think he's taken a day off the whole season, to be honest. He's been there every day, twice a day, so that's the reason why [we support him]."
The disappointment that Rose hasn't played has increased every month since February when it was anticipated the former MVP would come back. But as February turned into March and March into April with still no signs of him being closer to playing again, hope has now turned into all out vitriol for the South Side native.
"Dr. Cole said from day one it was going to be eight months to a year. So you hope for the best, you plan for the worst," Tom Thibodeau said. "The thing is, we don't [want] him out there until he's completely comfortable, and he's not comfortable yet. So that's part of what we expected. As long as he continues to work the way he has, I'm good with it. I know how important he is, and not just him, this would apply to any other guy. If a guy gets injured like that, you have to be patient."
But for many fans, Rose taking the court again hasn't happened soon enough. It seems unfathomable that a player as affable as D. Rose is receiving the same treatment the surly Jay Cutler got from fans when an injury to his MCL in the playoffs kept him on the sidelines in a game the Chicago Bears wound up losing.
Questions about Cutler's toughness and his ability to lead came up then, too.
"I feel bad for him," Boozer said. "He's got a lot he's going through. He's obviously trying to make sure he does the right thing for himself and his family. And he's got all you guys asking questions about him every day and the pressure and all that. He's just got to take it a day at a time. When he's ready, he'll be back, and if he's not then we've got to take care of it without him."
Normal 0 false false false EN-US JA X-NONE /* Style Definitions */ table.MsoNormalTable {mso-style-name:"Table Normal"; mso-tstyle-rowband-size:0; mso-tstyle-colband-size:0; mso-style-noshow:yes; mso-style-priority:99; mso-style-parent:""; mso-padding-alt:0in 5.4pt 0in 5.4pt; mso-para-margin:0in; mso-para-margin-bottom:.0001pt; mso-pagination:widow-orphan; font-size:12.0pt; font-family:Cambria; mso-ascii-font-family:Cambria; mso-ascii-theme-font:minor-latin; mso-hansi-font-family:Cambria; mso-hansi-theme-font:minor-latin;} Follow Outside Shot on Twitter (@Outside_Shot) for more Bulls news and information