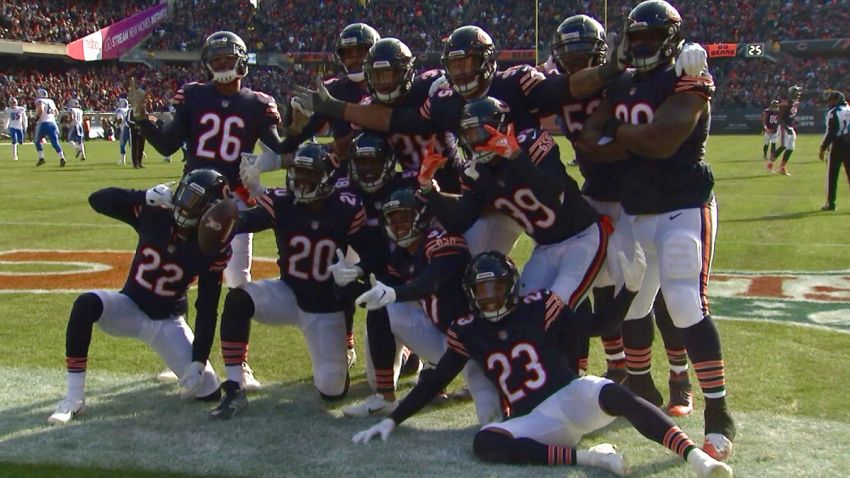 The Detroit Lions tried to make it interesting at the end, but the Chicago Bears still prevailed at Soldier Field in a 34-22 triumph.
The win is the first divisional victory of Mitchell Trubisky's career, and he played a big role in the triumph, throwing for 355 yards and three touchdowns in the win. Trubisky also rushed for a touchdown in the game as the Bears won their third straight contest and pushed their record to 6-3 on the year.
Allen Robinson had a massive day for the Bears after missing the last two games with a groin injury, hauling in six catches for 133 yards and two touchdowns. Anthony Miller had four catches for 107 yards and a touchdown in the winning effort.
Linebacker Roquan Smith had a monster game for the Bears, registering nine total tackles and a sack in the game. Khalil Mack, who had missed the Bears' last two games with an ankle issue, had two sacks in the game.
The Bears made sure to get off to a hot start for the second consecutive week, hanging 26 early points on the Lions. Cohen and Robinson each scored touchdowns in the first quarter to make it a 13-0 game, and then Miller hauled in a 45-yard touchdown pass from Trubisky early in the second to make it a 19-0 game.
After a Trubisky rush for a four-yard touchdown made it 26-0, the Lions started slowly clawing their way back into the contest. Kerryon Johnson rushed for a touchdown with a minute to go in the half to get Detroit on the board, and Matt Prater drilled home a 52-yard field goal early in the third quarter to make it 26-10.
The Lions kept pushing in the fourth quarter, as Kenny Golladay and Johnson both hauled in touchdown catches from Matthew Stafford, but it wasn't enough as the Bears' offense was able to drain the clock and seal the victory.
The Bears will have an opportunity to make a huge divisional statement next week as they take on the Minnesota Vikings at Soldier field in a nationally televised contest. They will rematch with the Lions just four days later, as the two teams will meet in Detroit on Thanksgiving.