Sometimes there are benefits to being sick.

Instead of heading out to my usual Tuesday poker game, a small bout of summer flu waylaid me to the couch, in perfect position to have both Chicago teams on my screens to take in a night of Chicago baseball (yes, I have two TVs in my living room, and yes I think it's perfectly legitimate in my line of work to do so. And yes, I know no reasonable woman will ever love me. I've come to terms with all of this).

And oh what a perfect showcase it was Tuesday night.
First, the Cubs, and what an exercise in desperation and depravity they've become. Watching two teams going nowhere in the middle of August -- in front of what basically amounts to the inmates of a halfway house, only they had no choice in coming -- doesn't say much for your current state.

But there they were, engaging in a game that ultimately won't mean anything (but that the owner may mistake for doing so). And they were up to their old tricks, striking out far too often, not taking enough walks, making a couple errors, all while I watched in vain for signs of hope from Starlin Castro or Tyler Colvin that brighter days were ahead.
And what has been the bugaboo of recent months, the Cubs took a lead into the 9th only to turn it over to a declining closer who, at the age of 26, wouldn't still be there under a competent organization.

Carlos Marmol represents everything the Cubs do wrong. Once a dominant player, it's clear which way he's headed. He used to throw 94-96 MPH less than two years ago. But all his 25-30 pitch innings, otherwise known as his every outing, have taken their toll.

Now he can't beat people with his fastball, and refuses to use it. The overuse of his slider has made it flatter and more readable, and more likely to spin and hang instead of bite and dart. His velocity is down. This will not correct itself because he'll never throw strikes.

A team going nowhere doesn't need a dominant closer, just like a car without an engine doesn't need sweet rims.
And there they came, singles on flat sliders and a homer on a fastball that was far too hittable, and he imploded in the most spectacular way possible, coughing up a three-run lead on one swing.

But at least this Cubs loss didn't sting, because what did it cost?
On the other screen were the Sox, who keep torturing their fans through every game, and the worst part is they do just enough to hang on to the cliff of relevance. They biffed their own lead through untimely hitting, poor defense, and starting pitching that after initial effectiveness went for a trip to the zoo.

Through 14 innings they hemmed and hawed, until finally breaking through when the Indians ran out of relievers. The win didn't gain any ground on the Tigers, but ran in place just long enough so that the Sox and their fans can go through it all again Wednesday.

That's not good enough to charge in a bad division, but not bad enough to get left behind by the mediocrity behind them.
Oh, what a showcase it was.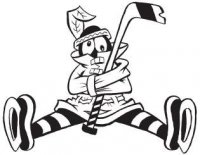 Sam Fels is the proprietor of The Committed Indian, an unofficial program for the Blackhawks. You may have seen him hocking the magazine outside the United Center at Gate 3. The program is also available for purchase online. Fels is a lifelong 'Hawks fan and he also writes for Second City Hockey .