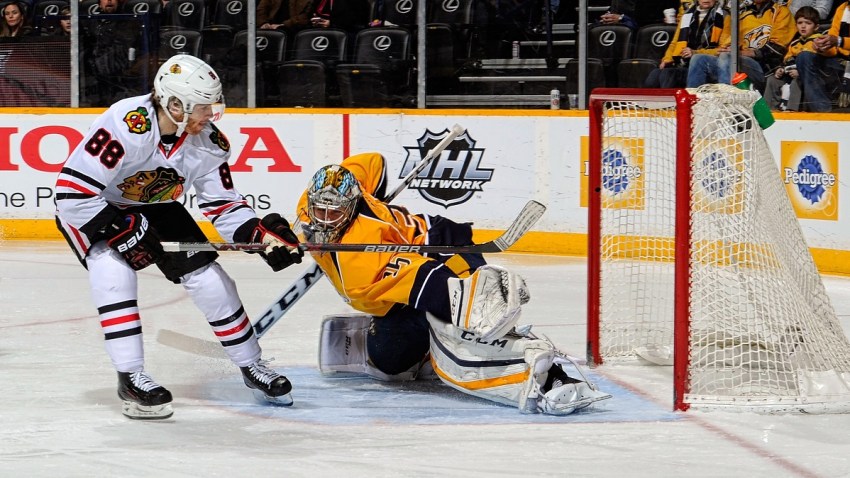 Chicago Blackhawks goaltender Corey Crawford has been instrumental in the team's recent winning streak, and he was in top form on Tuesday night as the Hawks won their 12th straight game in a 4-1 victory over the Nashville Predators.
Crawford ended up making 38 saves in the game as the Hawks extended their lead atop the Central Division. Artem Anisimov scored the first goal of the game, and Richard Panik and Patrick Kane both scored second period tallies to help lead Chicago to victory.
The first period belonged to the Predators for good stretches, as their offense racked up shots and forced Crawford to stay sharp early on, but a key defensive play allowed the Blackhawks to seize the lead near the end of the frame. After keeping the puck in the zone, Kane fed a pass to Artemi Panarin, who slid a pass across the ice that Anisimov one-timed into the back of the net to give Chicago a 1-0 lead.
Early in the second period, the Blackhawks struck again. This time it was a simple give and go at the blue line that set things up, as Ryan Garbutt allowed Dennis Rasmussen to enter the offensive zone with speed. Rasmussen then found Panik in the face-off circle, and the forward scored for the second time this season as he ripped a wrist shot past Pekka Rinne to give the Blackhawks a 2-0 lead.
The Predators responded quickly to the goal, adding their own less than 30 seconds later. A board battle went Nashville's way to kick the play off, and Miikka Salomaki fed a pass out to the point for Ryan Ellis. The hard-shooting defenseman let off a wicked slap shot toward the cage, and Crawford couldn't find it through traffic as the Predators got on the board and cut their deficit to 2-1.
Just a minute later, the Blackhawks tacked on a critical insurance goal. Duncan Keith picked up a loose puck in front of the net, and Panarin threw a stretch pass down the ice to a wide open Kane. The prolific scorer continued his red-hot play of late as he scored on the breakaway to put Chicago back in front by a 3-1 margin.
The third period saw Nashville continue to dominate in shots, at one point outshooting the Blackhawks 16-2, but Crawford made every save that he needed to. His play was ultimately rewarded by Andrew Desjardins, who tossed in an empty net goal late in the game to give the Blackhawks a three-goal cushion and their 12th straight victory.
The Hawks will look to extend their streak on Thursday night when they head to Florida for a Stanley Cup Final rematch against the Tampa Bay Lightning.