I could pretend that because this is a Blackhawks blog I can just go ahead and write something about training camp and try to ignore what's gone on today. I could try and divert my attention and yours, or dismiss the events as something that's gone on halfway around the world in a country I'll most likely never visit. But it's not something I'm capable of right now.
For those who haven't read or heard, a plane carrying the Kontinental Hockey League team (Russian league) Lokomotiv Yaroslavi crashed shortly after takeoff. It is reported that 43 of the 45 passengers were killed, including two former Blackhawks, Lokomotiv's entire coaching staff and all of the players save one.

Hockey's Black Summer has just gotten monumentally worse.
I'm never sure what I'm supposed to write at these times. I can't say I'm grieving because I'm not a family member or friend of any of the deceased. Saddened, of course, but not grieving. And I want to make sure I fall far short of making this seem a greater catastrophe simply because it involved a hockey team and not just 43 strangers. Because it isn't. It's horrible enough as it is.
But perhaps events like this shake us just a little more because sports are our distraction, at least for some. We turn to these athletes to entertain us for a few hours so that we don't have to think about bills, jobs, parking tickets, bathroom leaks, more bills, car troubles and all the little pesky things that take up life. And when disaster, true disaster, strikes the sports world, these two worlds collide and there is no escape now.
Or maybe it's hard to reconcile a group of men, most of them in the prime of their lives with everything to be enjoyed, are cut down so suddenly and so early. While it's not the right thing to do, we tend to hold professional athletes in an invincible sort of light, some gladiatorial fashion. And when we are reminded that they too are simply at the whims of nature and fate or whatever term you prefer to use, just as we all are, it can be jarring.
We'll get back to hockey soon. And after a while this will fade back into the memory banks and won't affect those of us not directly involved at all. And maybe that's sad or wrong. But it's the nature of the thing. Sports are our distraction, and one needn't elect to take on more grief than life already enforces upon us. But for the next couple days, it'll all seem just a little more pointless than it normally does.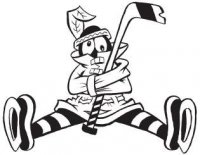 Sam Fels is the proprietor of The Committed Indian, an unofficial program for the Blackhawks. You may have seen him hocking the magazine outside the United Center at Gate 3. The program is also available for purchase online. Fels is a lifelong 'Hawks fan and he also writes for Second City Hockey .