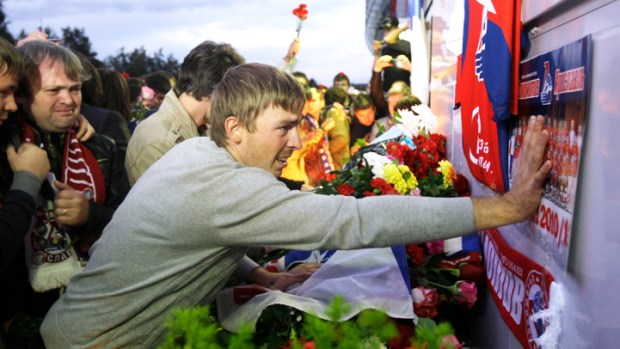 AP
Fans of the Lokomotiv ice hockey team lay flowers and light candles at the Lokomotiv Arena to pay tribute to the Lokomotiv players killed in a plane crash, in the city of Yaroslavl, on the Volga River about 150 miles (240 kilometers) northeast of Moscow, Russia, Wednesday. The Yak-42 jet carrying the Lokomotiv ice hockey team crashed while taking off Wednesday near Yaroslavl.
Two former Chicago Blackhawks were aboard a jet that crashed into a Russian river bank Wednesday, killing players and coaches of Kontinental Hockey team Lokomotiv.
Former Hawks defenseman Alexander Karpovtsev and former center Igor Korolev were listed as assistant coaches for the Russian hockey team.
The Blackhawks confirmed Wednesday that Karpovtsev and Korolev were on the plane and died in the crash.
"We stand together with the entire KHL, NHL and hockey world in mourning today's tragic news concerning the Lokomotiv Yaroslavl hockey team," the Hawks said in a statement. "The tragedy affects the Chicago Blackhawks family directly as we mourn the losses of Alexander Karpovtsev and Igor Korolev, two players who spent time with our organization and that our fans know well."
"Our thoughts and prayers are with the families and friends of the Lokomotiv Yaroslavl organization."
The jet crash killed at least 43 people, according to reports, and left two others critically injured.