Seven people were killed in three separate shootings within under 12 hours in the South Shore neighborhood on Thursday afternoon.
Shortly after noon, Patrice L. Calvin, a 26-year-old woman who was four months pregnant, was found unresponsive with a gunshot wound to the head in an apartment in the 7500 block of South Luella, authorities said. She was dead at the scene.
Late Thursday night, a 27-year-old man and an adult woman were shot to death in the same neighborhood, according to Chicago Police. They were passengers in a gray van heading south in the 2300 block of East 71st Street when a black Jeep pulled alongside and opened fire, police said. The man was shot in his side. And the woman was shot in the head.
About 3:30 p.m., a shooter walked into Nadia Fish and Chicken at the corner of 75th and Coles and opened fire, according to family members of the victims.
Two men, ages 21 and 28, were fatally shot inside the restaurant. The 28-year-old was identified as Emmanueel C. Stokes, and the 21-year-old was not identified Thursday night.
Two other men, Dillon and Raheam Jackson, ran from the restaurant as gunfire erupted, but both were fatally shot in different parking lots within a block of the restaurant.
All four were pronounced dead at the scene, according to the Cook County medical examiner's office.
On Thursday night, CPD spokesman Anthony Guglielmi tweeted that the shooting is "believed to be gang related retaliation from another incident," though he did not offer further specifics of that incident.
Detectives making good progress in investigation at 2700 BLK. E 75TH. Incident believed to be gang related retaliation from another incident

— Anthony Guglielmi (@AJGuglielmi) March 31, 2017
The Jackson brothers had gone to the restaurant to visit their mother, who has worked there for eight years, according to their grandmother, Georgia Jackson.
"They were shooting at somebody, they say, inside the restaurant," Georgia Jackson said. "My boys just got in the way, I guess."
The shootings came at the end of a month, which at the start of the day had seen a 43 percent drop in homicides year-over-year, according to Chicago Police. March 2016 saw 46 homicides, while March 2017 recorded 26 before the five homicides on Thursday in South Shore.
Dozens of onlookers gathered at the corner of 75th and Coles as police guarded the crime scene, which spanned several blocks. The bodies of the Jackson brothers could be seen lying under white sheets, much to the frustration of family members.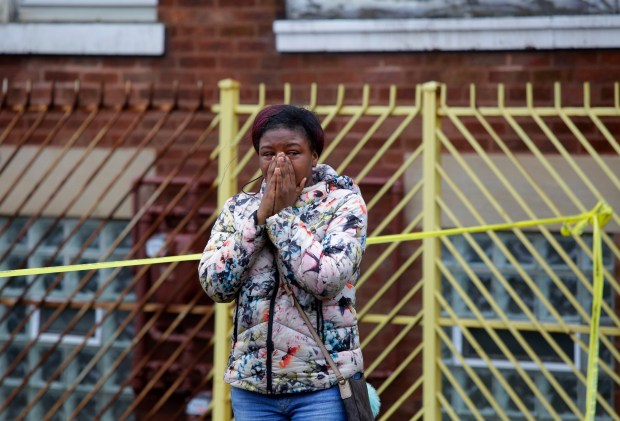 String of Violence Rocks Chicago's South Shore
A young woman screamed at officers to move the bodies of Raheam and Dillon — who she said were her brothers — out of the lightly misting rain.
"Real talk, this is gonna make me go f – – – – – – crazy," she said. "Why they still on the ground?"
Hours after the shooting, when most bystanders had left the crime scene area, Georgia Jackson vowed to stay at the scene until her grandsons' bodies were removed.
Agents from the Bureau of Alcohol, Tobacco, Firearms and Explosives were at the crime scene. An agency spokesman confirmed the ATF is assisting Chicago Police in the investigation.
Georgia Jackson said Dillon Jackson was shot in his back three years ago just a block away.
"Dillon was a homebody," she said. "I don't understand why he out here. What's he doing here?"
Family members said Dillon, 20, and Raheam, 19, were the youngest of five children. They had two older brothers and an older sister.
Raheam left behind one son who will turn 2 years old on April 2 and another 5-month old son, according to his sister-in-law, Shauna Jackson.
Dillon and Raheam Jackson were not the first grandsons Georgia Jackson has lost to gun violence in Chicago.
In December 2011, her 16-year-old grandson Jawan Ross, a Robeson High School student, was one of two teen boys killed when someone fired into a crowd at a Church's Chicken in the 6600 block of South Halsted. The Chicago Sun-Times reported then that Ross and 17-year-old Dantril Brown were unintended targets.
"I can't keep doing this," Georgia Jackson said. "I'm losing too many kids."
Last September, Arthur Chaney was found guilty of murder and attempted murder in the 2011 shooting.re
Thursday saw the first quadruple homicide of the year in Chicago. It came just a day after charges were filed in the city's last quadruple homicide, which occurred in Fernwood last December.
Chicago has seen more than 130 homicides through the first three months of 2017, according to records maintained by the Sun-Times. Seven other people were wounded in shootings across Chicago Thursday.