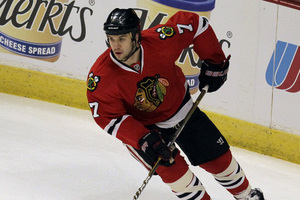 Lots of injury news coming from the Hawks' morning skate on Tuesday. Let's see if I can get this all straight: Dave Bolland is in, as is Ryan Johnson. Brent Seabrook is definitely out, as is Tomas Kopecky. Bryan Bickell may go, as might Jake Dowell -- but that has nothing to do with injury.
Where to begin? Let's start with Seabrook. The Hawks sort of skipped over the new NHL protocol when he took that initial hit from Raffi Torres behind the net (more on that later). The protocol states that even if there's a hint of concussion, Seabrook should be sent to a quiet room for observation for 15 minutes. He most certainly wasn't and took a couple more shifts before taking another hit from Torres and realizing all wasn't well. He sat out for a bit but came back to finish the game. Clearly he was ailing and the Hawks put his future health at risk. One can only hope that it doesn't plague him over the summer. Pierre-Marc Bouchard of Minnesota had his symptoms carry through an entire offseason, as did Marc Savard of Boston. This would be a nightmare scenario for the Hawks.
As for Bolland, there have been some calls from fans not to risk him in what probably is a futile effort. I don't know if I buy that. If he's completely clear and fully checked out by the medical staff -- and there's a whole host of hurdles one must leap to come back from a concussion after this long -- then he should play if he wants to. The Hawks themselves can't believe the game is meaningless, even if we do. They have to come out tonight believing that they can make the impossible happen. If Bolland helps them do that, then OK.
As for the rest of the lineup, look for John Scott to take three shifts at defense in place of Seabrook. Combined with Nick Leddy's unpreparedness for the NHL, that means Chris Campoli, Niklas Hjalmarsson, Duncan Keith and Brian Campbell on his one foot will have to skate ridiculous minutes and probably collapse by the middle of the third period, if they make it that far. Maybe Jassen Cullimore gets trusted again, but we'll have to see.
Other news is that Corey Crawford is not a finalist for the Calder Trophy, the NHL's award for rookie of the year. Some are aggrieved, but I don't know that I can argue with any of the finalists. They are Carolina's Jeff Skinner, who led all rookies in points; San Jose's Logan Couture, who had 32 goals; and the Isles' Michael Grabner, who led all rookies with 34 goals. Crawford had a wonderful season, but for a goalie to crack this he needs to have both ridiculous numbers and a dearth of skaters having noticeable seasons. Crow's numbers are good, but he doesn't have a silly amount of shutouts or highlight reel saves that draw attention from voters out of town.
What this could mean is that he has less leverage when negotiating an extension to his contract this summer, and that's a good thing. We don't need any more cap headaches.
There's lots of noise about Raffi Torres not being suspended for his hit on Seabrook. I think he should have gotten a game, and because he had just returned from a suspension, it would have been more.
I don't care what the NHL's reasoning is, he targeted Seabrook's head. That's an attempt to injure, and that's what the league says they are trying to get rid of. But the NHL is afraid to go too far, as it might take all the physicality out of the game. Also, the game is played at such speeds that having a clear-cut policy is a fantasy, decisions have to be made too quickly. The NHL is always going to be wishy-washy about this, it's too hard to legislate. And thus they'll always look foolish.