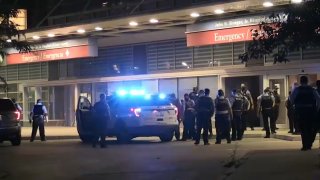 For the latest updates on this story, click here.
Two Chicago police officers as well as the suspected shooter were shot early Sunday morning in Homan Square on the West Side, according to CPD spokesman Tom Ahern.
The shooting happened at about 2:33 a.m. in the 3300 block of West Polk St., according to police.
Officers were responding to a traffic stop near Spaulding and Polk when they they spotted a gun in the backseat of the vehicle, CPD Supt. David Brown said during a press conference.
According to Brown, the officers broke the window of the vehicle after the suspect refused to get out of the car. A struggle then ensued in which the suspect shot on officer in the shoulder and the other officer in the side.
"A third Chicago police officer returns fire as well," Brown said. "The suspect is injured and was transported to the hospital.'
Both officers were transported to Stroger Hospital. One officer is in serious condition after being shot in the chest and shoulder, according to Dr. Hayden Hollister. He is undergoing surgery. The other officer is in good condition.
"When officers leave home for their work shifts every evening, they never really know what the day holds," Brown said. "Whether or not they'll be asked to make the ultimate sacrifice. Tonight, they weren't asked to make the ultimate sacrifice. But two of our officers were shot."