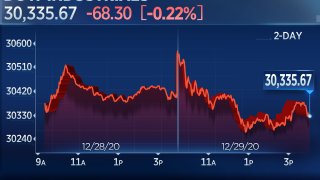 Stocks slipped on Tuesday after reaching fresh all-time highs as traders weighed the possibility of even more fiscal stimulus being approved by Congress.
The Dow Jones Industrial Average closed 68.30 points lower, or 0.2%, at 30,335.67. The S&P 500 dipped 0.2% to 3,727.04, and the Nasdaq Composite fell by 0.4% to 12,850.22. Tuesday's decline snapped a three-day winning streak for both the Dow and S&P 500.
All three of the major averages hit record highs at the open. At its session high, the Dow was up more than 100 points.
Senate Majority Leader Mitch McConnell blocked an attempt by Senate Minority Leader Chuck Schumer to fast-track a bill that would increase direct payments to Americans to $2,000 from $600. That bill was passed by the House late Monday.
President Donald Trump had previously called for a $2,000 direct payment to Americans. On Tuesday, he tweeted: "Unless Republicans have a death wish, and it is also the right thing to do, they must approve the $2000 payments ASAP."
Senate Republicans have opposed larger direct payments despite Trump's demands. However, several GOP senators have expressed support for the $2,000 checks.
Sen. Josh Hawley, R-Mo., tweeted: "We've got the votes. Let's vote today."
Apple and Home Depot fell more than 1% each to lead the Dow lower. Intel offset some of those losses, rising 4.9% after Third Point's Dan Loeb urged the company to explore its deal options.
Despite Tuesday's slight pullback, stocks are heading into year-end with surprisingly strong gains. The S&P 500 is up 15.4% in 2020, and the Dow has risen 6.3%. The Nasdaq Composite, meanwhile, has surged 43.2% year to date as investors flocked into major tech names such as Apple, Amazon and Facebook.
"The combination of vaccine rollouts, fiscal stimulus, and easy monetary policy continues to create a positive backdrop for equities going into 2021," wrote Mark Haefele, chief investment officer at UBS Global Wealth Management. "The agreement on a fresh U.S. fiscal stimulus package removes a recent hurdle, and global central banks continue to support the recovery by maintaining (and extending) monetary accommodation."
The number of coronavirus cases keeps rising in the U.S., however, casting doubt over the economic recovery heading into the new year. Over the past week, at least 184,000 new infections have been reported in the U.S. per day, according to a CNBC analysis of Johns Hopkins University data.
"Vaccine distribution has now officially begun … yet the pandemic has reached concerning levels on multiple fronts," wrote Jason Pride, CIO of private wealth at Glenmede.
"The viral resurgence has induced lockdown measures throughout the country, stunting economic reopening efforts. If the viral spread is not brought under control by year-end, it will likely be a key initiative to do so in early 2021 before a vaccine has become widely distributed," Pride added.
Keith Buchanan, portfolio manager at GLOBALT, noted investors are also looking ahead to next week's Senate run-off election in Georgia, which could tip the majority away from Republicans in favor of Democrats.
"The balance of the Senate is the big story there, and what it could mean for fiscal strategy and further stimulus going into the new year," he said.
Subscribe to CNBC PRO for exclusive insights and analysis, and live business day programming from around the world.
Copyright CNBC