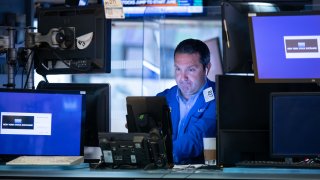 U.S. Treasury yields were mixed on Wednesday after the Federal Reserve released the minutes from its latest policy meeting, showing discussion by the central bank of possible tapering this year and that the economy had reached its goal on inflation.
The yield on the benchmark 10-year Treasury note rose 1 basis point to 1.272% at 4:00 p.m. ET. The yield on the 30-year Treasury bond lost 1 basis point, falling to 1.908%. Yields move inversely to prices and one basis point is 0.01%.
Participants of the Federal Open Market Committee gathering in late July discussed how "it could be appropriate to start reducing the pace of asset purchases this year," due to "substantial further progress" on price stability and employment goals, according to the minutes of that meeting, released Wednesday afternoon.
"Various participants commented that economic and financial conditions would likely warrant a reduction in coming months," it said.
Bonds fluctuated following the minutes release as investors looked for more definitive clues as to when the Fed would begin removing stimulus. The meeting minutes reflected there was still division within the central bank on when to taper, so bonds barely moved in either direction with conviction.
Recent monthly inflation rates rose after the economy reopened, leading to a surge in demand combined, production bottlenecks and supply constraints. The minutes states that the staff "expected the 12-month change in PCE prices to move down gradually over the second part of 2021, reflecting an anticipated moderation in monthly inflation rates and the waning of base effects. Even so, PCE price inflation was projected to be running well above 2% at the end of the year."
"Absent a significant reversal in the strong jobs numbers or inflation data, the minutes reflect a Fed that is prepared to accelerate its taper timeline to perhaps the next few months," said Cornerstone Wealth investment analyst Sean Bandazian. "While we are not convinced Powell will announce any taper next week at Jackson Hole, it is clear from the minutes that many Fed members are prepared to recommend an imminent tapering of asset purchases."
Consumer price increases are expected to reverse over the following year, the minutes stated, and import prices are expected to decelerate.
Housing starts fell 7% in July to a seasonally adjusted annual rate of 1.534 million units, the Commerce Department said Wednesday. Economists expected the rate to fall to 1.6 million units.
Auctions were held on Wednesday for $30 billion of 119-day bills and $27 billion of 20-year bonds.
Copyright CNBC