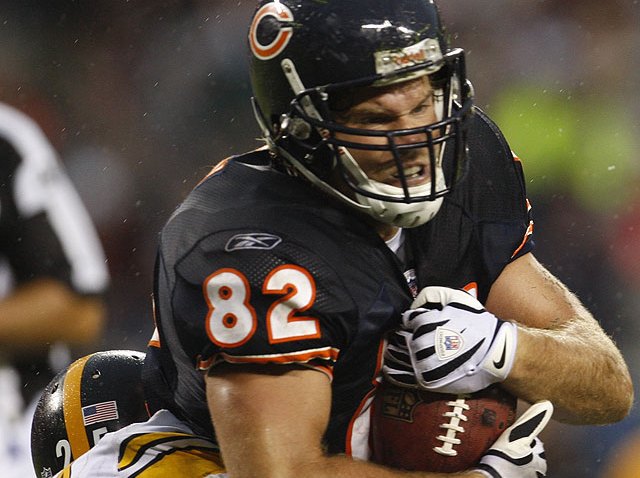 Thus far, the Bears have played two games in the National Football League. Neither of them remotely resembled the other.

In week one, Bears were scattered, sporadic and prone to brief but staggering defensive failure. Jay Cutler threw four interceptions and never looked comfortable.
In week two, the Bears looked competent, solid, and defensively organized. Jay Cutler not only didn't throw four interceptions, he threw two touchdowns, no picks, and completed 71 percent of his passes. He flung the ball around; he made space in the pocket and then threw impossible, right-on-the-hands-somehow throws to downfield receivers. (One such receiver was Johnny Knox, who played so well he got the rookie of the year campaign kicked off already.) To put it bluntly, Cutler, and by proxy the Bears, looked awesome.

Which means that we have absolutely no clue who the Bears are. Are they week one bears? Week two? Good Bears? Bad Bears? If this keeps up, we could have a Good Rex/Bad Rex situation on our hands. Except, you know, for the whole team. No one wants that.

Which is why'd it be really nice for the Bears to not only win this week in Seattle, but to do so handily. The Seahawks are a banged-up team; it's unlikely their starting quarterback, Matt Hasselback, will play, and even if he does he'll be doing so with a fractured rib. He's unlikely to be effective. This is a very winnable game for the Bears against a bad football team. If they're at all interested in proving themselves, they'll win and win big.

Otherwise, we're right back where we started, with no idea whether these Bears are world-beaters or bottom-feeders or somewhere in between. We'd like to find out. Wouldn't you? Most importantly, wouldn't they?

Eamonn Brennan is a Chicago-based writer, editor and blogger. You can also read him at Yahoo! Sports, Mouthpiece Sports Blog, and Inside The Hall, or at his personal site, eamonnbrennan.com. Follow him on Twitter.
Copyright FREEL - NBC Local Media