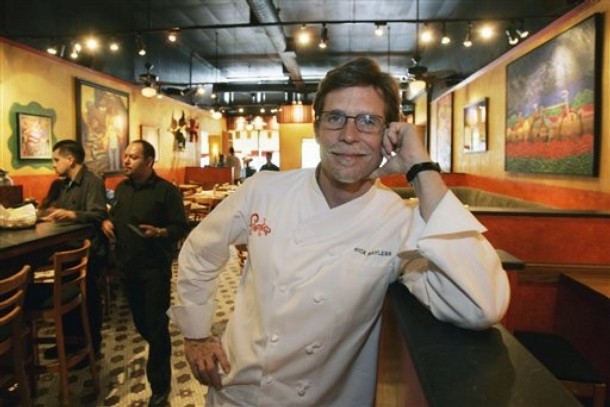 Rick Bayless: Top Chef Masters finalist, owner of successful restaurants Frontera Grill and Topolobampo, and all-round acknowledged expert on Mexican cuisine.
Thing is, he's a white guy.
So, uh, is that a problem?
His cross-ethnic expertise certainly hasn't made him popular with ChicagoNow blogger Teresa Puente.
"Why is Rick Bayless the expert on Mexican cuisine when he isn't even Mexican?" she asks in her blog, Chicanísima.
"Something just bugged me that a white guy was gaining so much fame for his Mexican cuisine," she continues. "I'm sure his love of Mexico is genuine and he does good charity work. I'm not saying he's a bad guy, and he is a great chef. But why does the media make him the spokesman for Mexican food in the United States?"
I guess she's never heard of Julia Child, a California girl who introduced French cuisine to the American mainstream. Or Emeril Lagasse, who is well known for his Cajun and Creole cooking and grew up along the East Coast. And foul-mouthed Gordon Ramsay is a British chef who specializes in French and Italian cuisine.
Arguably, yes, the fine-dining culinary scene could use more diversity. There are very few celebrity chefs of color.
But must we be limited to exploring foods and cultures that only match our ethnic backgrounds? And why should we assume that any one person can't excel in a foreign language, dance, or cuisine?
"I have issues with the idea that certain things come naturally from certain folks," said Carlos Deleon, 28, of Andersonville.
Todd Seyl of Rogers Park agrees with this sentiment. "What makes you think you have to be Mexican to know how to cook Mexican food? The media did not make Rick Bayless an expert on Mexican cooking, he made himself an expert," Seyl said, referring to Bayless' years of research and countless travels throughout Mexico.
"In this day and age, when we want to celebrate multiculturalism and diversity, why are we disappointed when someone from a different background fully embraces and dedicates their focus and years of their time to something not inherent to their own background?" asks Eric Glauner, 35.
As a result of all that hard work, Rick Bayless now has the ability to educate people on the diverse flavors of Mexican cuisine. Too many Americans think that all Mexican food is some combination of tortillas, meat, tomatoes and cilantro. Or worse, they think a certain fast-food "Bell" is a good representation.
I can tell you now, there are no "crunchwraps" in Mexico.
So if it takes a "white guy" to show Chicagoans and the rest of the nation what authentic, delicious Mexican food is, more power to him. ¡Salud!
Matt Bartosik, a "between blogs" blogger, is a little bit Ukrainian Village and a little bit Humboldt Park.
Copyright FREEL - NBC Local Media