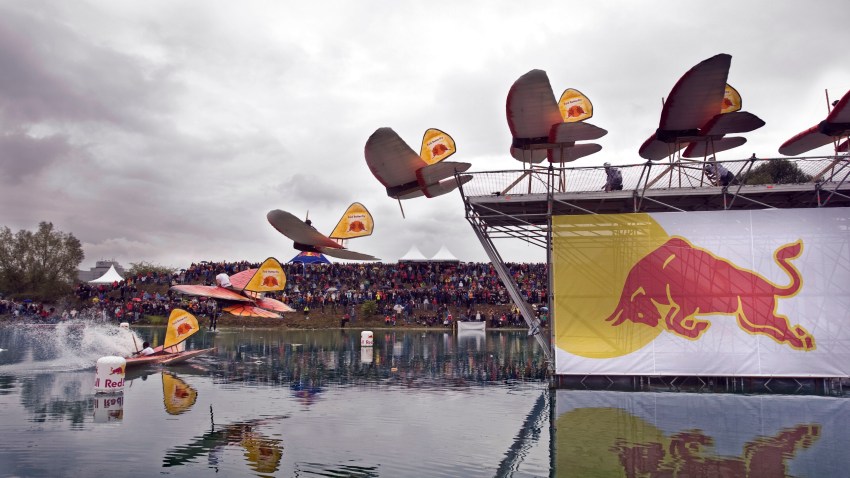 If you've never attended a Red Bull Flugtag, where thousands of spectators watch self-taught pilots hurl homemade aircrafts off a 30-foot high pier into the watery depths below, it wouldn't be outlandish to wonder, "just how the heck did this whole thing start, anyway?"

Well wonder no more, curious aviation enthusiasts! Thanks to the timeline we here at NBC Chicago have put together, you'll be a veritable history scholar on all things Flug. So read up and take notes, because you don't want to come off sounding uninformed at an event where people pilot flying pigs.

1971
Red Bull Flugtag was inspired by the Birdman Rally, a similar event of amateur aviators that first took place in Selsey, England in 1971. It soon replaces the fox hunt as the classiest way for nobles to spend the weekend.

1992
After launching his iconic energy drink in the late '80s, Red Bull founder Dietrich Mateschitz throws the inaugural Red Bull Flugtag -- German for "flight day" -- in 1992 in his native Austria with Flugtag Vienna. Austrians everywhere declare, "Vee love ze flying und machen ze party!" Heralded as a huge success, the event has taken place in Vienna every year since.

2002
Already a hit with the Euros, Flugtag hops the pond with its first US event in San Francisco. Feeling like Austria's second greatest export, future California governor Arnold Schwarzenegger crushes a can of Red Bull with his bare hand.

2005
Team Red Arrows Brno break the 30 meter barrier with their winning flight in Bratislava, Slovakia. Flugtagers everywhere rejoice, toasting the triumph with cans of Red Bull and comparing it to such groundbreaking achievements as Sir Roger Bannister's sub four-minute mile and Neil Armstrong's first step on the moon.

2008
Flugtag Tampa sets an attendance record when 110,000 spectators brave soaring temperatures to watch 35 teams compete for ultimate glory. Soon after, city officials try to rebrand Tampa as the city with the world's most Flug fans instead of strip clubs. Sadly, it doesn't stick.

2012
Don Canallie und seine tollkühnen Schurken -- aka Don and his daredevil villains -- dream the impossible dream, then make that dream a reality thanks to some wood, plastic and a whole lot of flair, shattering the world distance record with a 69 meter flight. The German Prime Minister publicly praises their effort as "unglaublich!" but privately asks "fellas, did you really have to call yourself villains?"

What will the next landmark be in Red Bull Flugtag history? Come to North Avenue Beach on September 8 to find out. And click here to learn more about the histroy of Flugtag.