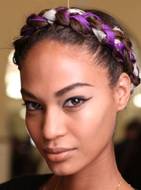 If the opening of Hermes earlier this summer wasn't reason enough for us to start lusting after those gorgeous silk scarves, now there's another reason to start incorporating them into our wardrobes; it's suddenly trendy to wear them in your hair, as we've seen in recent runway trends and designer ads.

But let's be honest, wearing a scarf on your head—or in your hair, for that matter—can end up making you more fit for the "worst dressed list" than a fashion-do.

Fortunately the ladies of Roscoe Village's Luxe Salon and Spa are helping a sista' out by offering a fun class to make sure we are up on the latest hair trends. Head there on Thursday, August 12 from 6:30-8 pm to learn all the in's and outs of wearing scarf styles in your hair, no matter if you are rocking a pixie cut or have long, flowing locks. The Thursday night tutorial will teach some easy, sexy ways to dress up the ole' coif, whether its in a braid, ponytail, or total hair coverup (for those days when shampooing just isn't in the cards).

And we'll also be able to get one step closer to owning that dreamy Hermes silk scarf that the majority of us just can't afford; all class attendees will be entered into a raffle to win one to call their very own.

Register in advance by calling 773-665-2049. Classes are $10 for advanced bookings and $12 at the door, which will be applied to future services at the salon. The evening will also include cocktails, apps and a complimentary head-scarf for each attendee (of the non-Hermes variety, we would imagine.)Kim Peiffer is the founder of The Glow List, an online magazine dedicated to fitness, beauty, diet, spa and travel.