Marion Brooks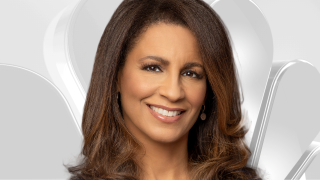 Marion Brooks is an award-winning anchor and reporter at NBC 5. She anchors the NBC 5 News at 11 a.m. and 4:00 p.m. each weekday and is a member of the NBC 5 Investigates team. She has also co-hosted the NBC 5 production of the Bank of America Chicago Marathon since 2017.
Brooks' passion is for reporting and storytelling. In her investigative work she has been drawn to social and criminal justice issues. That focus inspired her to update and add context to the story of Emmett Till in the documentary, The Lost Story of Emmett Till: The Universal Child.
In the wake of the racial unrest after the murder of George Floyd, Brooks spearheaded NBC 5's Race In Chicago initiatives. The multi-platform project included Say the Word, Say the Name, a digital series of first-person accounts of experiences with racism, as well a reading of names of people who died in racially motivated killings. The initiative also included a series of television stories. The Race in Chicago television special(s) earned Brooks and her co-producers national recognition from the National Alliance for Women in Media (Gracie).
Her series of reports on Sex Trafficking in Chicago has earned her several awards including a national Gracie and a Regional Edward R. Murrow Award from the Radio Television and Digital News Association (RTDNA).
Her investigative work on sexual violence issues led to NBCChicago.com's Survivor's Project. That project featured brave survivors of sexual violence sharing what happened to them, but also how they persevered and grew strong enough to own the narrative of their experience. The project was recognized by the RTDNA with a Regional Edward R. Murrow Award and the Illinois Broadcasters Association' Silver Dome Award.
Brooks joined NBC5 in 1998 as a weekend anchor from Atlanta, Ga., where she also served as an anchor/reporter at WSB-TV.
Her career has spanned over several regions and market sizes in the country. Beginning at the Sarasota Herald Tribune in Sarasota, Fla., Brooks learned the advertising side of journalism in a management training program for the New York Times Newspaper Group.
Her first job in broadcasting was in radio at WGST, a news talk station in Atlanta, in the entry level type of job that exposed her to the long hours, hard work, and adrenaline rushes of newsgathering. She credits this experience with solidifying her desire to work as a journalist.
Her first television job took her to one of the poorest regions in the country, the Mississippi Delta. From there her career wound through markets around the country with stops in Jacksonville, Fla., St. Louis, Mo., Atlanta, Ga., and ultimately Chicago.
She's covered everything from major natural disasters to politics, crime and courts to health, consumer issues to two Olympic Games, and much in between.
Brooks has a Bachelor of Arts degree in English from Spelman College and is a member of the National Association of Black Journalists.
She is a native of Vancouver, British Columbia, and was raised in Portland, Oregon. Brooks has two beautiful daughters, Brooks Hawkins and Sydney Hawkins.
Brooks' has been honored with Awards from the following organizations:
National Association of Television Arts and Sciences (NATAS), Midwest Chapter Emmy Award
National Emmy Award
Alliance for Women in Media (Gracie)
Radio Television Digital News Association (Edward R. Murrow Award, Region 7)
Associated Press
Illinois Broadcasters Association
National Vernon Jarrett Award, 2005 - Institute of Advanced Journalism Studies, North Carolina A&T State University
National Mental Health Association
Illinois Mental Health Association
Chicago Association of Black Journalists