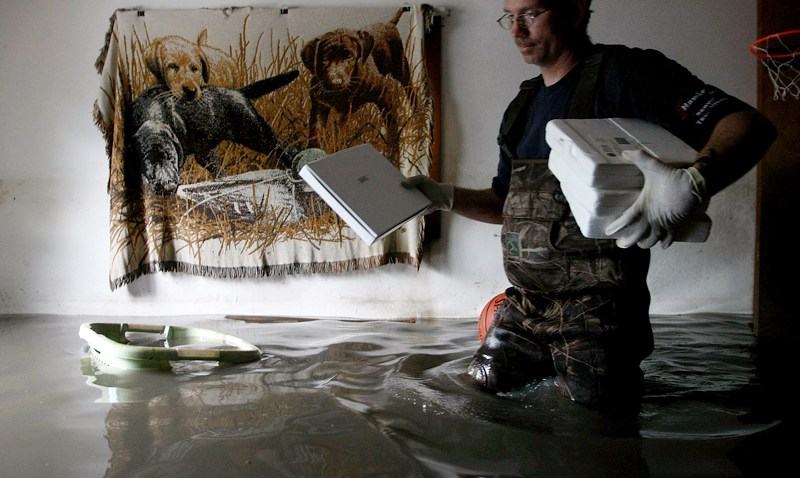 With piles of snow melting and rains pouring, Illinois residents braced themselves for overflowing rivers and flooded roads after Saturday's thunderstorms drenched the area.
The storms caused damage to buildings and downed tree limbs and power lines. In the Chicago area, power restoration was being slowed by flooding at ComEd substations, said spokesman Jeff Burdick.

Winds knocked out power to 63,600 ComEd customers Saturday, Burdick said. Of those, 55,000 had power restored by Saturday evening, and 164 crews were working to restore service to the remaining 8,600. About 3,700 customers without power were in Chicago, and another 1,800 were in the north suburban region, Burdick said.
Chicago residents tried to stay ahead of the rising water.
"I'm just trying to get every piece of water,snow that I can just away from the house, " said David Hale of Albany Park. "If I can minimize it and just get everything I've been shoveling all day to make sure I can get everything I can out."
In Kane County, several dozen Boy Scouts spent Saturday morning filling 2,400 sand bags for residents to pick up as needed outside the Campton Township Highway Department. Scouts shoveled sand into the bags and stacked them in neat piles.

"They're learning community service," said troop leader Jeff Koehl, who said authorities sent out an e-mail asking for Scouts to volunteer. "They're just concerned with the way we're going to get this quick melt that all the tributaries are going to fill up."

Mother Nature dealt Illinois a mixed bag of weather on Saturday with flood warnings and advisories in the north and tornado watches in the central and southern parts of the state. There were reports of thunderstorms with hail and winds of more than 60 mph. There also were fog advisories and temperatures that climbed into the 60s, less than a week after they plunged below zero.
[Today's forecast] [Travel times] [Flight schedule]
In Chicago, crews turning Wrigley Field into an ice rink for the upcoming National Hockey League's Winter Classic removed snow from the stadium Friday. Who knew rain would have washed it away the next day?

Illinois Emergency Management Agency spokeswoman Patti Thompson said that the agency was in "readiness mode" and making sure local officials are aware of the flooding advisories.

The National Weather Service forecast widespread and "potentially significant" flooding through Saturday evening with up to 3 inches of rain in the Chicago area. Meteorologists said the melting snow, heavy rains and frozen ground could combine to flood areas where high water is rare.

"The potential exists for serious and potentially life threatening flooding to develop with some areas that typically do not flood possibly even becoming inundated with water," the weather service said in an advisory.

The National Weather Service also reported Saturday that 2008 has been the wettest year on record for the city of Chicago, with just less than 50 inches of precipitation