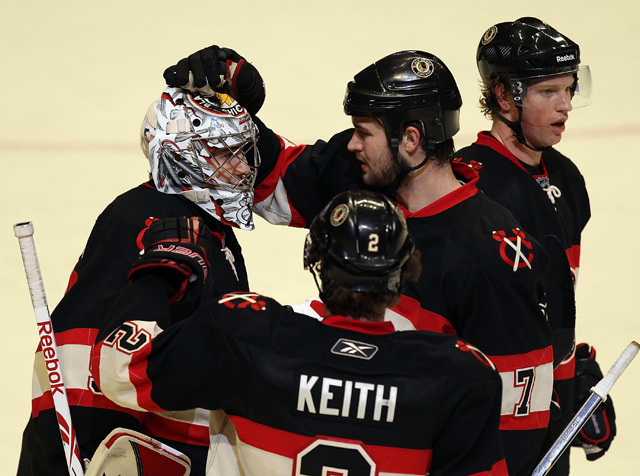 Just a few things rattling around the head today:
Nick Leddy has been recalled. Most will wonder why today if the point of sending him down in the first place was cap space, but Leddy need the practice time of today and tomorrow here with the Hawks. And he'll need it badly because there are no two sterner tests than at Detroit and home to the Flyers. With the Wings being at home, Leddy can expect to see Henrik Zetterberg lined up outside of him every chance Mike Babcock gets. Considering how much Leddy struggled against the Predators, it could get real ugly against the even faster and more disciplined Wings and the slobbering beasts that are the Flyers. Leddy has only proven to be overmatched against genuine NHL competition, and if GM Stan Bowman goes out and gets a 3rd pairing d-man before the trade deadline, you'll know he's admitting a mistake in starting Leddy's contract clock.
The Wings are putting in a claim for former Sharks goalie Evgeni Nabokov. This tells you two things: 1. They don't want to watch Joey MacDonald any more and 2. Jimmy Howard may be out for a little longer than they thought. Nabby is a great regular season goalie but the Wings wouldn't want to count on him in the playoffs if it came to that, which it probably won't. Still, I bet some team blocks this before he gets to Detroit.
Interesting discussion I had with a couple people last night. What will the crowd look like during the 3rd period on Sunday afternoon against the Flyers? While I'm sure it will be full to start, what percentage will bolt for the exits to get home in time for the Bears? My brother and I were discussing a score matrix to make our decision. If either team is up two with six minutes or less left, three with 15 left, and anything above that we're out in the 2nd intermission. What would your plan be?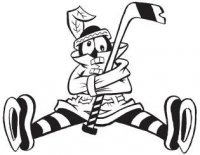 Sam Fels is the proprietor of The Committed Indian, an unofficial program for the Blackhawks. You may have seen him hocking the magazine outside the United Center at Gate 3. The program is also available for purchase online. Fels is a lifelong 'Hawks fan and he also writes for Second City Hockey .