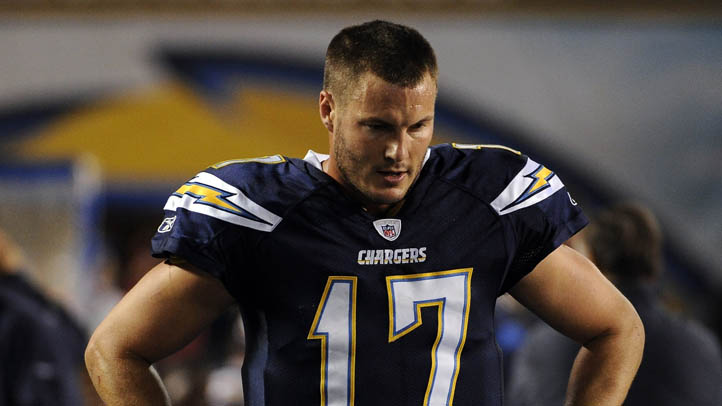 At this point in his career, Jay Cutler has been a Bear for long enough that it's easy to forget that he started out in Denver, where a fierce rivalry with Philip Rivers and the San Diego Chargers developed. Cutler had some of the best and worst games of his Denver tenure against San Diego. One of his worst games yielded a 32.7 QB rating, and cameras caught Rivers talking smack across the field to Cutler.

Both were in the infancy of their careers, when they were young, inexperienced and dumb. They will meet again this Sunday as the Bears start their run through the AFC West. Cutler claims that the two have never talked. When asked about the rivalry at today's press conference, Cutler said, "I don't know him. You have his number? We can call him up."

Since that 2007 incident -- which Rivers said was blown out of proportion -- the two have both experienced roller coasters career. Rivers, along with Antonio Gates, Ladainian Tomlinson and Vincent Jackson, experienced great success. They had four straight playoff appearances, and Rivers led the league in touchdown passes in 2008 and yards thrown in 2010. But the team has struggled in recent years with injuries and some bad management. Norv Turner coaching will do that to a team.

Cutler was traded from Denver after his relationship with coach Josh McDaniel disintegrated. The Bears went 7-9 in his first year, but made it to the NFC Conference Championship in 2010 after surviving 52 sacks. Despite that, his toughness was questioned when he was pulled from the conference championship because of a knee injury.

This year, Cutler has been a new man. His sacks are down, his interceptions are down, and he's hitting his stride at the right part of the season. Rivers, on the other hand, is on a four-game losing streak. He's had turnovers at the least opportune times in every one of those losses. Both are in need of wins on Sunday to keep playoff hopes alive. (The AFC West is so awful that even with four losses in a row, the Chargers are only one game out of the lead.)

So much of Sunday's game will hinge on quarterback play. The big question is will the mature experienced version of the QBs show up, or will they revert to the younger, dumber versions of themselves?
Copyright FREEL - NBC Local Media