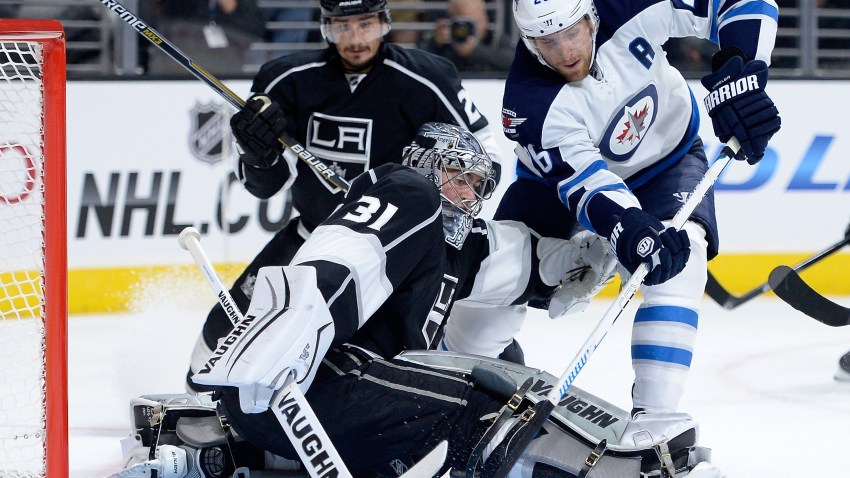 The Western Conference playoff picture got a lot clearer on Thursday night as the final two tickets into the Stanley Cup playoffs were punched.
The Winnipeg Jets lost 1-0 to the Colorado Avalanche in a shootout, but they were able to clinch a playoff berth anyway as the Los Angeles Kings fell to the Calgary Flames by a score of 3-1. The victory sealed berths for both the Jets and the Flames, and it ensured that the Kings will not get a chance to defend their Stanley Cup title in the postseason as they were eliminated from playoff contention.
In addition to the Jets and Flames clinching berths in the postseason, the Central Division race was also decided on Thursday night as the St. Louis Blues beat the Chicago Blackhawks by a score of 2-1. That victory, combined with the Nashville Predators' loss to the Minnesota Wild, sealed the Blues' division championship and gave them home-ice advantage in the first round of the postseason.
Because of the Blackhawks' loss, the Predators also clinched home ice advantage in the first round as they locked up the second seed in the division.
As for which teams will play which, there is still plenty to be decided. The Blues are currently tied with the Anaheim Ducks at 107 points, and whichever team finishes with the higher point total will get to play the Jets in the first round. The Blues' final game of the regular season comes against the Wild on Saturday, while the Ducks will be heading to the desert to take on the lowly Arizona Coyotes. If the two teams are tied in the standings at the end of Saturday's action, the Ducks hold the tiebreaker thanks to their higher number of regulation and overtime wins this season.
Whichever team holds the second-best record between those two clubs will take on either the Blackhawks or the Wild. If Chicago gets at least one point in their game Saturday against the Avalanche, they will lock into the third seed in the Central Division and open the postseason in Nashville against the Predators. If they lose the game in regulation, a Minnesota victory over the Blues would propel them into the third spot in the postseason, leaving the Blackhawks to face one of the division champions.
To round out the postseason, the Canucks and Flames will meet in the first round of the postseason, but the teams are tied at 97 points in the standings at the moment, so it's undecided which team will hold home ice advantage in that series.