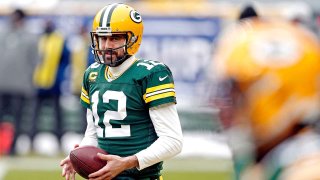 Rodgers to Bears fans: 'I still own you' originally appeared on NBC Sports Chicago
Aaron Rodgers just grinds our gears. He's tormented the Chicago Bears for years and after scoring a touchdown late in the fourth quarter to give the Packers a 10-point lead, he had some choice words for the fans at Soldier Field.
"All my f**king life. I own you. I still own you. I still own you," Rodgers yelled.
To be honest, that just hurts. We know you do Rodgers, we're haunted by it.
Second of all, this should get all the taunting flags. If Oklahoma players can't give the upside down horns gesture, this and the double-discount belt gesture should be banned.
Needless to say, Bears fans and media had a lot of thoughts on it.
Copyright RSN