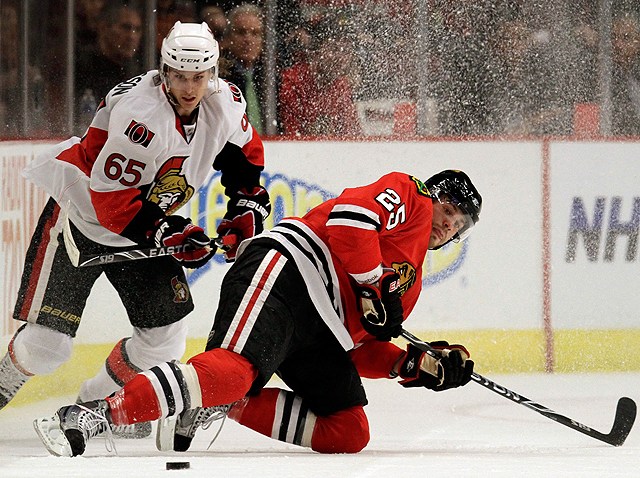 First off, an apology from me for not getting anything up yesterday after the "win" over the OttawaSenators. The real job get in the way, as those things tend to do. Secondly, "win" is in quotes because it's personal policy to not recognize shootouts. They're a dumb gimmick to rope in the brain-dead, and it barely works at that.

In every sense of the word, Friday's game was a tie.
And that would be the best the Hawks deserved. They were lethargic and sloppy all night. Did they ever string two passes together? If they did it was a rare occurrence. There was to clacking of taped sticks as passes hit their targets, but a plethora of pucks against skates. When the Hawks were required to go retrieve the puck, they looked like they were off to a blood test. They were lucky that the Sens are in such a way so as not to take more advantage.
Even with only taking one penalty, the Hawks didn't miss their chance to give up a power play goal. The penalty is in-between right now. What I mean is that they don't know whether to be aggressive and when to sit back and at which time to do what.

On the Sens goal, Fernando Pisani moved out to pressure on point man, but could not recover to block the passing lane back to Daniel Alfredsson, which Erik Karlsson gladly took advantage of. Maybe someone should have covered for him, maybe Pisani just doesn't have the footspeed to get back in an aggressive kill. But I get the sneaking suspicion that the kill is affected by the same malady a lot of the Hawks game is these days, which is a matter of want-to. The Hawks rarely want to enough.
Still, I guess I'm supposed to take solace in the two points, and the Hawks need them anyway they can get them. Though they lie 10th in the Conference now, a win tonight sees them jump up into a tie for 5th. The sky could be any color in the Western Conference.
The Hawks get another under-.500 team tonight in the Islanders, but the Isle are playing well, which the Sens are not. They'll have to be better than they were. I haven't seen anything to tell me there'll be any lineup changes, so expect the same crew as you saw Friday.

What you're hoping will change is the effort from the Hawks. We could all do with an easy win.