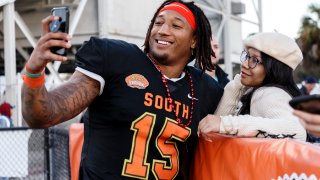 The Chicago Bears were busy on the final day of the 2020 NFL Draft, making multiple trades and acquiring a new crop of young players to add to their roster.
The Bears kicked off the day by selecting outside linebacker/defensive end Trevis Gipson out of Tulsa. The Bears traded a 2021 fourth round pick to the Minnesota Vikings in order to get the chance to draft Gipson, and they're hoping he can help give them a homegrown pass rushing option to compliment Khalil Mack and Akiem Hicks.
The Bears used their second pick in the fifth round to select cornerback Kindle Vildor out of Georgia Southern. The second cornerback the Bears selected in the draft, Vildor appeared in 11 games last season, with two interceptions and 27 total tackles to his credit. He ended his collegiate career with nine interceptions and 25 passes defended.
Wrapping up their fifth round selections, the Bears snatched up wide receiver Darnell Mooney out of Tulane. The first Tulane player to be drafted by the Bears since running back Matt Forte, the speedy receiver racked up 48 catches for 713 yards and five touchdowns in his senior season. He had 154 catches and 2,572 receiving yards in four seasons.
The Bears had two picks in the seventh round, and they used both of them to draft offensive linemen. With back-to-back picks, the Bears selected Arlington Hambright, a tackle out of Colorado, and Lachavious Simmons a guard out of Tennessee State.
Hambright started all 11 games for the Buffaloes last season, and according to the school he had 68 knockdown blocks during the season. He was named Pac-12 Offensive Lineman of the Week after his performance against Stanford.
Simmons, who stands 6-foot-5 and weighs 313 pounds, appeared in all 12 games of his redshirt season.
Now the Bears will turn their attention to signing undrafted free agents, as the team has plenty of roster spots open to add more talent after the draft concludes.