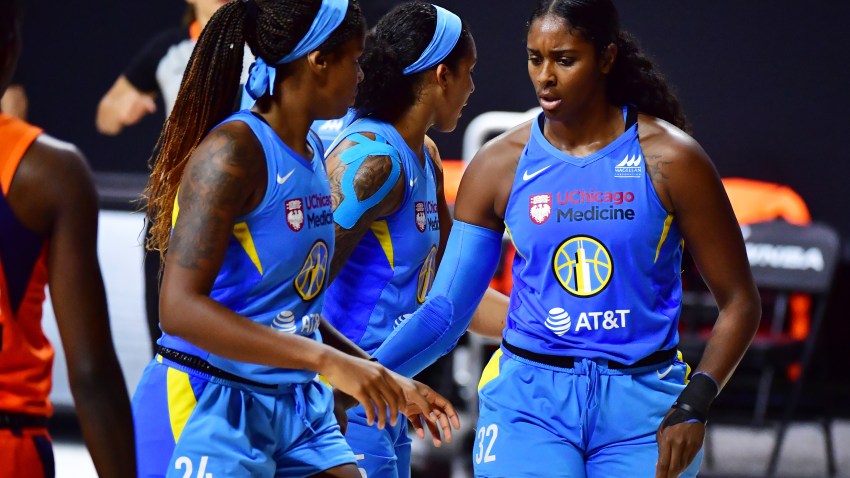 Sky's season ends in convincing first-round defeat to Sun originally appeared on NBC Sports Chicago
The Chicago Sky exited the 2020 WNBA Playoffs in the first round with a 94-81 loss to the Connecticut Sun Tuesday.
It caps an up-and-down, injury-riddled and wholly unprecedented campaign for the Sky played inside the WNBA's bubble at IMG Academy in Bradenton, Fla. Their regular season ended 12-10, the fourth-best winning percentage in franchise history. Courtney Vandersloot smashed records left and right. Breakout years for Kahelah Copper and Cheyenne Parker, plus the late-season emergence of rookie Ruthy Hebard are silver linings.
Still, the single-elimination defeat stings. In a matchup of contrasting styles, the Sun dictated the tenor of the game, outrebounding the Sky 40-21 (17-5 offensive), getting to the charity stripe 29 times to Chicago's 16, and more than tripling them up in the second-chance points department (23-7). 
All were areas Sky head coach James Wade and multiple members of the team pinpointed as areas of focus going in.
"They're one of the better teams in the paint and that's what they wanted to do and I thought they imposed that on us," Wade said after the game, adding that it was "disheartening" to watch the Sky lag behind on the glass.
And the Suns' stars showed out. Alyssa Thomas lived up to her "Playoff AT" moniker, dropping 26 points, 13 rebounds and eight assists while shooting 10-for-19 from the field and 6-for-7 from the line. DeWanna Bonner poured in 23 points and 12 rebounds, swiped three steals and made all 13 of her free-throw tries. The two combined for more rebounds (25) and free-throw attempts (20) than the Sky as a team. Brionna Jones chipped in eight rebounds (six offensive), and Kaila Charles 13 crucial points off the bench.
The Sky, meanwhile, had four in double figures: Allie Quigley (19), Copper (17), Gabby Williams (16) and Vandersloot (12), and did connect on 50% of their field goals. Williams canned two 3s to spur a 10-2 run that closed the first half and drew the Sky level 41-41 at the break after trailing through most of the earlygoing. 
But a 13-2 Sun sprint to start the third foretold a lopsided second half that saw the underdogs lead by as many as 20. A flurry of 3-pointers pulled the Sky within nine in the final minute-and-a-half, but a necessary string of stops eluded them. The interior battle simply skewed too far in the Sun's favor.
So, a season that began with championship aspirations ends in first-round defeat. The role of injuries in that result can't be overstated. Diamond DeShields (personal) and Azurá Stevens (knee) both left the bubble on Aug. 29, a point from which the Sky finished 2-6. DeShields, a breakout candidate after making her first All-Star team in 2019, struggled with knee ailments even before exiting.
"If this bubble teaches you anything, it's that life is unpredictable," Wade said. "So you can't depend on what ifs. I feel like we had a more than capable team of winning tonight, with or without the group that we had. Injuries happen, it's a part of the game. 
"We'll have them back next year and we'll be happy about that but I can't just sit back and say, hey, it would have been different if we had a different team."
But for now, they're on their way home. A bittersweet proposition.
"I'm not ready to go," Williams said. "I really enjoyed playing this summer with these girls and I love how everyone stepped up, how everyone got closer.
"Living with Sloot, Allie and Stef, I feel like we've gotten to know each other inside out now, but we really had to have each other's backs. Like, emotionally and physically. I had to rely on every one of my teammates at some point during this summer and they all had my back, and I feel like that really builds our trust."
Regardless of the on-court result, it should also be stressed, the team reported that the Sky Take Action campaign, an initiative announced to augment the WNBA's season dedicated to social justice, raised over $100,000 for Chicago community organizations this season through a combination of performance-based incentives, money matches from big donors and fundraising done by fans.
Even short of the ultimate goal, the team can go home knowing their presence in the "Wubble" had that impact.
"I told them thank you," Wade said when asked his parting message to the team. "And how much I really appreciated them coming. I know because of COVID, because of social injustice issues it was just a tough time for everybody, especially the players that play overseas that haven't gotten a chance to see their parents and their loves ones. But for them to commit to the team, for them to commit to us as a coaching staff and them to commit to the Chicago Sky, I think it said a lot from them.
"I also said that we weren't good enough tonight, so that makes two playoffs in a row that just didn't go our way. So I want them to take the loss with them and just understand that we have to come back better.
"Our goal is to bring a championship to this franchise, and that's it."
With a still-burgeoning young core, bright days remain ahead.
Copyright RSN