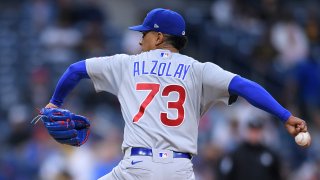 Alzolay leaves game with blister on finger originally appeared on NBC Sports Chicago
Cubs pitcher Adbert Alzolay left Monday's game at San Diego with a blister on his middle finger, according to the team.
The right-hander had been battling command issues all evening, walking a season-high five batters. He issued his fifth walk of the night in the fourth inning, throwing four straight balls to Padres leadoff hitter Tommy Pham.
Cubs manager David Ross called to the bullpen before jogging out to the mound with head athletic trainer P.J. Mainville. Alzolay shook his head as he talked with Mainville and Ross. Alzolay's teammates patted him on the back before he walked off the field with Mainville.
Alzoaly's velocity dipped in that walk to Pham, according to Statcast. This season, Alzolay's slider velocity has averaged 86 mph and his sinker 93.5 mph. Alzoaly threw two sliders and two sinkers to Pham in the fourth inning. Both sliders were under 83 mph and both sinkers under 91 mph.
Alzolay allowed four runs in three-plus innings Monday. The outing ended his streak of allowing three runs or fewer in nine straight starts.
Copyright RSN