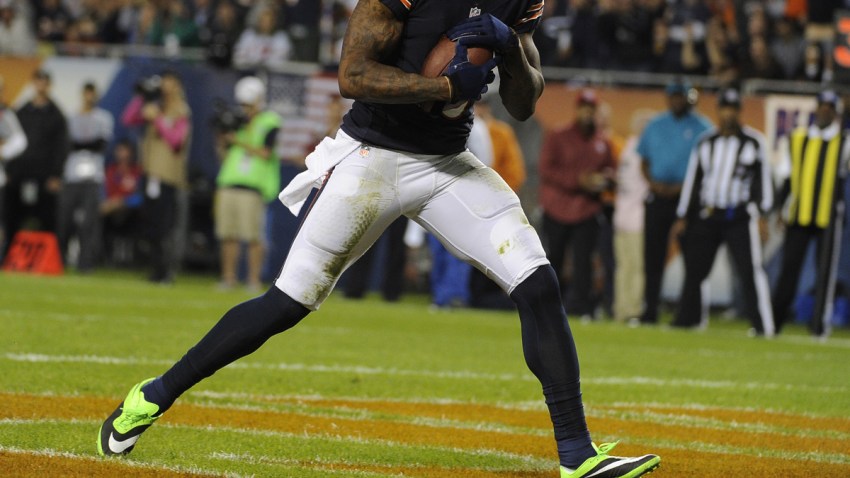 Chicago Bears wide receiver Brandon Marshall made good on his plan to wear green cleats on Thursday night to celebrate Mental Health Awareness Week, and now he's planning to sell them.
Marshall said earlier in the week that he was even willing to pay a fine to the NFL for his "transgression" and donate an equivalent amount of money to charity.
But reps with the Brandon Marshall Foundation announced Thursday that the autographed cleats he wore in the game will be auctioned off to the highest bidder.

All the proceeds will be directed to the foundation's work in the mental health arena. (Click here or text "Brandon" to 52182 to bid)
The NFL reportedly was considering not allowing Marshall to take the field with the cleats, according to a report by CSN Chicago's John Mullin, but they ended up deciding that they would just fine him for the shoes instead.
Earlier this season, Earl Bennett was planning on wearing orange cleats during a game, but he was threatened with ejection. Bennett has worn the cleats several times and was fined every time, and so the league amped up the potential discipline. Needless to say, he opted not to cross Roger Goodell and company.
The league has always kept a tight rein on things when it comes to uniform issues, but they have seemingly cracked down even more in recent years. For instance, DeAngleo Hall was threatened with a fine earlier this season because he was wearing a Lacoste polo shirt while conducting a press conference following a game. An NFL uniform inspector (yes, those exist) made him stop the interviews he was doing, and made him change the shirt under threat of a fine.
Hall isn't alone either. Robert Griffin III was fined $10,000 earlier this year when he wore a t-shirt with the slogan "Operation Patience" on it during warm-ups before a preseason game. The reason for the fine is that it wasn't a Nike-branded item, and the NFL gets SO steamed when players do that.
Finally, Frank Gore was fined $10,500 after last season's NFC Championship Game for wearing his socks too low. Yes, you read that correctly.
Obviously, as you can tell from our tongue-in-cheek statements about these violations, we aren't a big fan of the NFL's strict uniform policy. What do you think, Bears fans? Should the league worry about frying bigger fish than a player who is just trying to raise awareness for a cause that is near and dear to his heart?