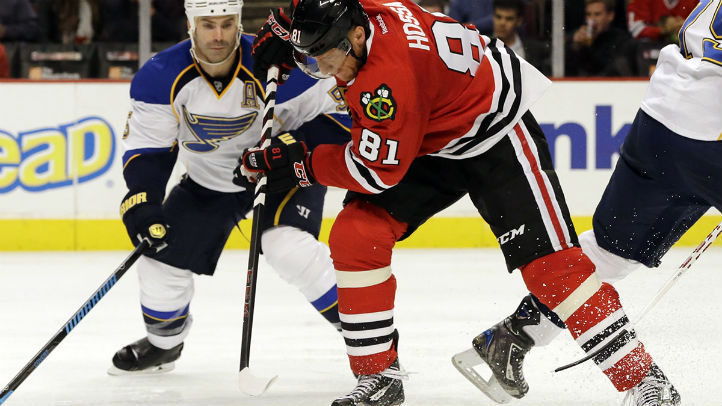 Every week, Madhouse Enforcer will take a look around the Central Division and let you know who's hot and who's not in our little corner of the hockey world.
1 (Last Week's Rank: 2): Colorado Avalanche
Even though the Avalanche did drop their first game of the season on Thursday night against the Detroit Red Wings (who are in first place of the Atlantic Division, for those interested in such things), they still had a largely successful week, knocking off the Dallas Stars in a divisional matchup and beating the Buffalo Sabres on the road. Their big test this week will be a Monday night matchup against the Pittsburgh Penguins, which is a great measuring stick both for the Avalanche's viability as a playoff contender, as well as a chance for the Eastern Conference to prove that it isn't completely outgunned by the West.
2 (Last Week's Rank: 1): St. Louis Blues
The Blues lost twice last week, with a big defeat at the hands of the San Jose Sharks ending their unbeaten run and a shootout defeat at the hands of the Winnipeg Jets on Friday. That loss came after a hard-fought victory over the Chicago Blackhawks, which led us to rank the Blues ahead of Chicago this week, but it's still a neck-and-neck battle.
3 (Last Week's Rank: 3): Chicago Blackhawks
The Blackhawks racked up a 2-0-1 record last week, but we kept them in the third spot because of some of the issues the team has had on the offensive side of the puck. Joel Quenneville has made some changes in that area, and they showed signs of life in a win against the Toronto Maple Leafs, but this week will feature a couple of road tests in Florida and a divisional game against Minnesota, providing a good barometer of where the team's offense is at.
4 (Last Week's Rank: 7): Nashville Predators
The Predators had a jam packed week with four games and they ended up coming out of it with a 3-0-1 record, only giving up six goals in the four games. They got some great goaltending out of Pekka Rinne, great defense from the entire team, and have really started to see some serious production out of rookie defenseman Seth Jones. We picked the Predators to make the playoffs at the beginning of the year, and it was these kinds of factors that led us to do it. Three more divisional games loom this week, and will provide a great picture of where the Predators are at this point.
5 (Last Week's Rank: 4): Minnesota Wild
The Wild looked like they had finally figured some things out after they reeled off three straight wins, including two divisional triumphs, but the wheels fell off this week. They lost by a combined 7-2 margin to the Maple Leafs and Lightning on the road, and then lost a shootout to the lowly Florida Panthers on Saturday. They've scored five goals in their last four games after scoring five against the Stars last Saturday, and with the Predators and Blackhawks looming on their schedule this week, things aren't getting any easier for the reeling Wild.
6 (Last Week's Rank: 6): Winnipeg Jets
The Jets have been a really difficult team to figure out. They lost in unimpressive fashion against the Canadiens and Predators last week, but they held on to knock off the Blues in a shootout on Friday. A tough five game stretch against Central Division opponents (four of which are on the road) looms after a date Tuesday with the Capitals, and will hopefully give us a better look at what we can expect from them this season.
7 (Last Week's Rank: 5) Dallas Stars
The Stars have been in a free fall as of late, losing four of their last five games, and their only victory over that stretch came against the Sharks in a shootout. The way they've lost those games has been particularly uninspiring, giving up 22 goals over that span. They've had little to no success in either their goaltending spot with Dan Ellis and Jack Campbell, and in their defense, giving up a ton of shots in recent games. There is not much to be optimistic about with the Stars right now, and with a few days off before a date with the Flames on Thursday, they have a lot of questions to answer.