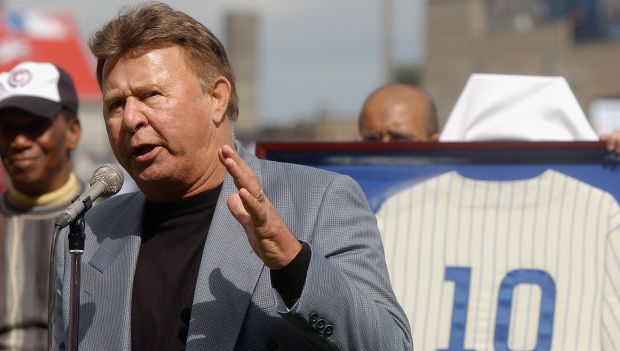 At one point during Wednesday night's agonizing extra-innings loss to the Houston Astros, Cubs announcer Ron Santo moaned "this is torture."

Yet, through all the years of torture he has witnessed as the Cubs color commentator, Santo has managed to stay clear of expletives on the air. Most of the time.

"I say things I cannot believe I just said," Santo tells NBC Chicago. "That's emotion. I'm not phony about it. I'm a fan. There are times when I have to let it out."

"But I have come close (to swearing) a couple of times over the years," he admits. "And I said some too."

In fact, Santo recalls his first words in the broadcast booth almost were his last words.

Santo says he was a "nervous wreck" announcing his first game. "I had a cup off coffee and as I was introduced the coffee just fell on me," says Santo. "I let out a 'God D-----.' It was live." As his broadcast partner looked on with a shocked expression, Santo figured his career was coming to a quick end.

"After I got through it I said, 'Well, you know I won't be here, long."

Fortunately, Santo received a reprieve. He has gone on to new and always emotional heights in the booth, celebrating 50 years in the game this season. He is a constant advocate for Cubs baseball and charity, endlessly raising money for Juvenile Diabetes Research on the air.

He has also slipped up at least one more time in the potty mouth department.

Santo recalls one game in Dodger's Stadium -- a rare Cubs blowout that was heading towards the four-hour mark. He remembers Sammy Sosa angering the Dodgers by continuing to steal bases with a big lead, which led to a brush back pitch and both benches emptying.

"I'm upset about the fact that this game should be over," says Santo. "And I said, 'there goes the umpire and he'll put an end to this bulls---."

Dodger General Manager Ned Colletti was sitting in the booth and didn't miss a beat.

"He says to me, 'I don't think my 5-year-old is awake.' "
Copyright FREEL - NBC Local Media