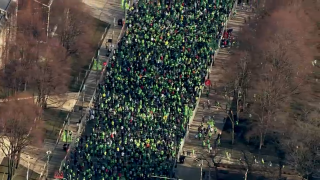 If you'd like to participate in the Bank of America Shamrock Shuffle, but aren't quite ready for an 8K, don't be discouraged.
The event is also hosting The Mile run, a 2-Mile Walk, and a Virtual 8K run.
You can find all the information you need below.
The Mile
The Mile is offered on March 25. The race takes place in Chicago's Grant Park. Registration for the race is $25, with $15 tickets available for youth ages 8 through 12 years old.
2-Mile Walk
The family-friendly 2-Mile Walk begins at 8:25 a.m. on March 26 along the Chicago lakefront. Registration for the 2-Mile Walk is $35.
Bank of America Shamrock Shuffle
Virtual 8K
If you'd like to join the festivities, but can't make it in person, the Virtual 8K will take place from March 20-26.
To learn more about Shamrock Shuffle, and sign up, see the website.