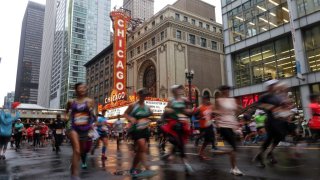 Bank of America Chicago Marathon runners can commemorate their journey to the finish line by gearing up with official race merchandise offered by Nike.
The sportswear giant has curated a collection of performance running and lifestyle apparel tailored for the special occasion — and marathon organizers shared a glimpse of the limited-edition line earlier this week.
Runners can score the marathon drip, from shorts to sweatshirts, online at Nike.com, in-store at Nike Chicago or at the Abbott Health and Fitness Expo during race week. Nike Members were given priority access to a selection of clothes Thursday.
The merchandise also will be available at a number of local stores:
Nike Chicago: 669 Michigan Ave.
Fleet Feet Chicago: multiple locations
Naperville Running Company: 34 W. Jefferson Ave.
Heartbreak Hill Running Company: 2148 N. Halsted St.
Last Lap Cornerstore: 330 E. 51st St.
Official finisher's merchandise will be available starting Oct. 8 exclusively at Nike Chicago and online, according to race organizers.
The marathon's 44th running is set send thousands of runners throughout the city's streets Oct. 9.
NBC 5 Chicago, Telemundo Chicago and TeleXitos will offer complete live TV coverage and live streaming of the marathon in both English and Spanish.
The live television broadcasts will air from 7 to 11 a.m., and the live stream will be available at nbcchicago.com and telemundochicago.com, on the NBC 5 and Telemundo Chicago apps, and on the stations' Roku and Apple TV channels from 7 a.m. to 3 p.m.