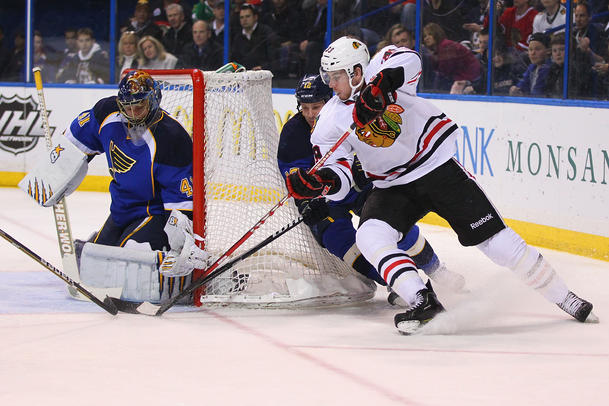 In a shortened NHL season, fans assumed that there would be a good deal of time missed with injuries. They were right.
The Chicago Blackhawks are one of the victims of the injury bug this year, with both Marian Hossa and Patrick Sharp missing significant time as of late with upper-body ailments.
Both are looking to come back soon, but neither will be on the ice on Monday night when the Hawks take on the Nashville Predators at the United Center. The question that the Hawks will have to contend with upon the return of their two star wingers is what to do with youngster Jimmy Hayes.
The decision on what to do with Michael Frolik will certainly be an easy one. He will resume his role alongside Marcus Kruger on the team's fourth line (assuming that the Hawks stand pat at the trade deadline), but Hayes is a big question mark. The Hawks have several options on what to do with him once their two forwards come back.
The first of those would be to allow Hayes to stay on the second line with Patrick Kane, but to shift Sharp to the center position. He has dabbled in that spot quite a bit in his career, so it wouldn't be a crazy idea to do that again. Doing so would enable the Hawks to shift Dave Bolland down to the third line, and have Andrew Shaw to switch to the winger spot that he seems to be more comfortable with.
Another option would be to move Hayes down to the fourth line along with Frolik and Kruger. This option would make sense because of Hayes' size, and he could also generate some good scoring punch with two guys who can hold their own offensively.
Both of those possibilities would be good for the team, but when push comes to shove, the team would likely be better off just sending Hayes back down to Rockford. Having Hayes play second line minutes may be enticing, but the Hawks have gotten some great production out of their third line, so breaking up the grouping of Bryan Bickell, Shaw, and Viktor Stalberg could be a mistake on Joel Quenneville's part.
In addition, moving Hayes to the fourth line would require the Hawks to send Brandon Bollig back down to Rockford, and Quenneville hasn't seemed willing to allow his team to be devoid of the grit that Bollig and Daniel Carcillo can provide on that fourth line. When playoff time rolls around, having a line that can bruise an opponent is important, and Hayes is being groomed to fill a bigger role than that on this team in the future.
The Hawks would be smart to send Hayes back to Rockford so that he can continue getting first line minutes, and to keep him in reserve in case something happens to the injury-prone Hossa again.