There are few dumber feelings than trying to write about hockey and the Hawks on a day where my patio has essentially become a Tandoori oven.
Seriously, what is anyone trying to prove with this heat? This is personal. This is "You're five days late on the VIG and you've got a week to make good" torture.
On this day, I can barely remember what it's like to wear a jacket and head into the United Center. I can't fathom what that feels like. I know I've done it enough, but when my brain is actually bubbling and I've lost about 15 pounds in water and my sweat is stinging my eyes, I can't remember that feeling.
But anyway, some loose notes:
-The Hawks promoted Ted Dent from assistant coach to head coach of the Rockford Icehogs. They had to do that because last year's coach, Bill Peters, was hired to be an assistant in Detroit under Mike Babcock. See? It's a lot of head to assistant to head coach shuffling right there. Anyway, I can't tell you if Ted Dent, which would be better pronounced as one word -- "TedDent", is actually a good coach or not. I do get outside on occasion after all. I have dreams of being socially acceptable some day.
But anyway, Rockford is going to have quite the interesting year upcoming. After being awful last year, all of Shawn Lalonde, Kyle Beach, Brandon Pirri, Dylan Olsen, Brian Connelly, Ryan Stanton, and possibly Jeremy Morin (if he's not with the big club) will all have a year of pro experience with them. So there should be a huge jump in the standings. And this is the year the organization wants to see true development from those prospects. Because when injuries hit, some of these kids are going to have to plug in and contribute. And then down the road they'll be expected to take over full-time. Hopefully Dent is that guy.
-Could the Hawks website have picked a worse Stones song for their Convention highlights piece?
-If Eddie O wasn't cheap, would he have been so insulted when Denis Savard said so?
-Patrick Kane's wrist surgery went well, so we can expect him at camp. When he gets there, watch how he's shooting the puck. Is he more hesitant in preseason games than he was last year? We'll know how it's feeling then.
-Good god it's hot.
-Hockey Prospectus, which aims to be the nerd ecstacy that Baseball Prospectus is for the baseball dorks, came out with their prospect rankings. The Hawks have the 5th overall system according to them, with Marcus Kruger leading the way. Hopefully that's the case.
-I have to go ice everything now.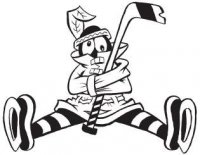 Sam Fels is the proprietor of The Committed Indian, an unofficial program for the Blackhawks. You may have seen him hocking the magazine outside the United Center at Gate 3. The program is also available for purchase online. Fels is a lifelong 'Hawks fan and he also writes for Second City Hockey .