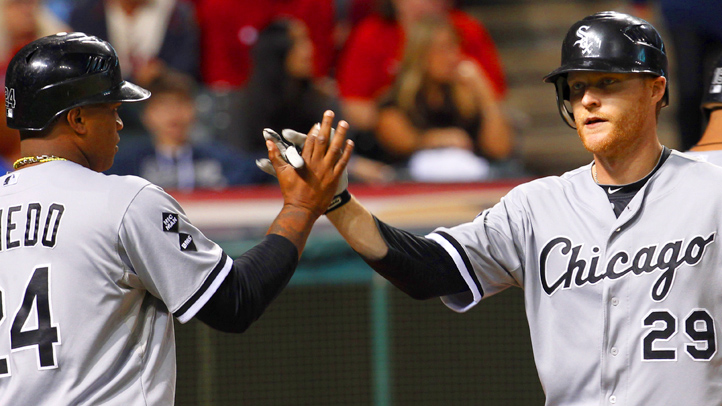 Dan Johnson hit his first three homers of the season and Chicago added two more in the game as the White Sox routed the Cleveland Indians 9-0 on Wednesday night.
Gavin Floyd (12-11) gave up three hits over seven innings. He struck out six, one short of getting 145 strikeouts for the fifth straight season despite being on the disabled list twice this year.
Johnson hit two two-run homers off David Huff (3-1). His 424-foot shot in the second inning was his first in more than a year. His second made it 7-0 in the fifth, two batters after Paul Konerko hit his 26th of the season.
It was Johnson's fifth career multihomer game and first time he hit three in a game. He's the first player to hit three in a game against Cleveland since Konerko in July 2009.
Dayan Viciedo hit his 25th homer, third in three nights and sixth against Cleveland in the ninth, followed by Johnson's third.
He had not hit a homer since his dramatic pinch-hit shot for Tampa Bay saved the Rays' 2011 season. His two-out, two-strike solo drive in the ninth inning tied the score at 7 on the final night of the regular season. The Rays had trailed 7-0 and beat the New York Yankees 8-7 in 12 innings to make the playoffs.
Cleveland went 3-3 in the final week for interim manager Sandy Alomar Jr., who will be interviewed for the fulltime job on Thursday. Terry Francona, who guided Boston to World Series titles in 2004 and 2007, will make his pitch to the Indians on Friday in an effort to get back to managing after being dismissed a year ago when the Red Sox folded and were edged out by Tampa Bay.
"I can't match Terry's resume and only control what I can do," Alomar said before the game. "I am confident I can do the job."
Chicago went 4-11 down the stretch to place second to Detroit after leading the AL Central by three games on Sept. 18. Robin Ventura's 85 wins are the most for a first-year White Sox manager since Gene Lamont won 86 in 1992. Lamont is the Tigers' third-base coach.
Before the game, general manager Kenny Williams addressed the discouraging end to an otherwise good season.
"We didn't win enough games, so we're going home," Williams said. "I can't say enough about these guys for their effort. I can be only so disappointed for not closing this thing out. All we had to do was take care of business on our last road trip. We'd be getting prepared for the playoffs.
"You have to play your whole schedule. No excuses and none needed. They literally gave everything they could."
Floyd allowed only a two-out single by Lonnie Chisenhall in the first until Jason Kipnis lined a one-out single in the sixth. The right-hander is 4-1 the past two years and 8-4 in his career against Cleveland.
Hector Gimenez bounced a two-out RBI single up the middle to make it 3-0 in the fifth.
Huff gave up nine hits over 4 2-3 innings. Only three runs charged to him were earned. A throwing error by third baseman Chisenhall made Chicago's entire four-run fifth unearned.