Some pretty significant news today as Bryan Bickell had surgery on tendons in his wrist. Word is he'll sit out for Game 7 and well beyond if the Hawks advance.
We all remember Bick's getting cut there with a skate during Game 2, and Duncan Keith's gross out reaction to it on the bench. Apparently, Bickell could only gut it out for so long, or it got hurt again.
Funny, because for a great majority of this year, I and most other Hawks fans would have brushed this off as a borderline player missing time. But since being moved to Bolland's wing when No. 36 returned, Bickell has played quite well, scoring twice. His goal in Game 4 was a real thing of beauty, dancing around Kevin Bieksa and charging to the net, around Luongo to score.
Where this effects the Hawks is that this is a winger that Coach Quenneville trusts to take a regular shift, and they're not full on those. If John Scott dresses again for Game 7 that will leave the Hawks one forward short as it is, and if Marcus Kruger is the replacement that probably puts the number at 10. More of a load for the top tier of forwards, who were looking gasses last night as it was.
What will the Hawks do? Tomas Kopecky made the trip but it's 50-50 whether he goes or not. If he does, one could see a scenario where either he replaces Bickell on Bolland's wing, or Troy Brouwer does -- who has the defensive IQ to play on a checking line with Bolland -- taking that spot and Kopecky slotting down to the fourth line with Ryan Johnson and either Kruger or Scott (for the three minutes he's actually on the ice). Jake Dowell could also slot in on the fourth line, bumping Brouwer up. It remains to be seen.
If Kopecky can't go, the Hawks will essentially skate with three lines of forwards and Ryan Johnson taking draws when needed. It's not the best way to attack a Game 7 against a far deeper team on the road. Bickell may not be our favorite player, but he will be missed.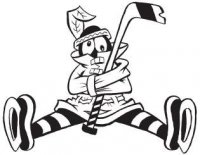 Sam Fels is the proprietor of The Committed Indian, an unofficial program for the Blackhawks. You may have seen him hocking the magazine outside the United Center at Gate 3. The program is also available for purchase online. Fels is a lifelong 'Hawks fan and he also writes for Second City Hockey .