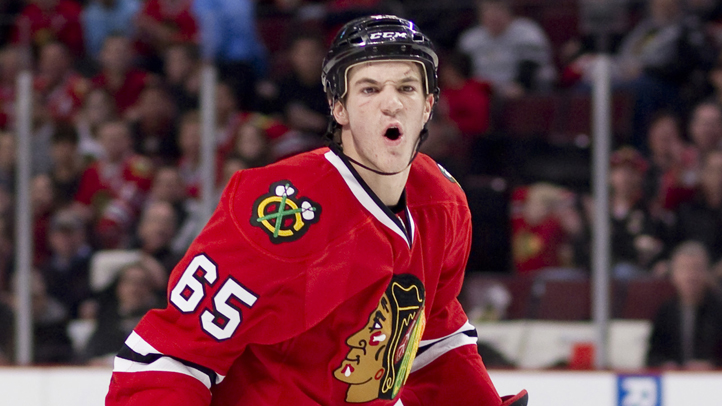 Maybe he can talk to Ben Smith about going from fan's hero to Rockford.
Friday morning, the Hawks sent Andrew Shaw back to Rockford and called up Jimmy Hayes. Shaw won everyone over from his first shift with a fearless, clueless, boundless style of play that saw him running into everything without braking, including goals. For a week or two there, he was pretty much everything Dan Carcillo was advertised as but wasn't. He got to the net, he hit, he scored ugly goals. It was a hard combo not to love.
The one who fell for him hardest was the guy behind the bench. Joel Quenneville didn't wait long to try Shaw in every situation and both wings and center. Shaw even got a look centering for Marian Hossa after something like two games. He killed penalties, and was on the power play.
But it fell apart quickly. Recently, Shaw has been a turnover machine, it's just his turnovers weren't ending up in his own net. His frantic play went over the edge. Teams were now pounding him physically, and the dude's frame just wasn't going to hold up with that.
Shaw does have an NHL future, though probably as not much more as a 4th-line player. He could top out as a checking winger one day, but he'll need to work on his positioning and puck management in the AHL before he is a full-time NHL-er.
Hayes opened some eyes in his stint here, as he displayed a nose for the net and an ability to finish. And those are the big ones, you can build the rest of the game around it. He's a big body, but it isn't very strong yet and he can be knocked over pretty easily. Some serious weight room time in the summer awaits the B.C. boy. Where he slots in the lineup right now I can only guess. Probably just starts on the 4th line where Shaw was, as the other three lines are rolling right now.