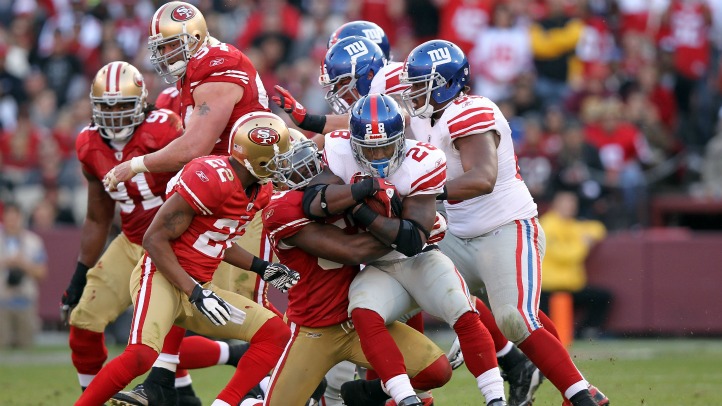 Giants safety Antrel Rolle says that the Giants can't be beat.
While that sounds more like the coach of the other team that calls the Meadowlands home than it sounds like a member of the team that's coached by a man whose mantra is that talk is cheap, there's plenty of fuel for Rolle's argument right now.

The Giants have crushed four straight opponents by hitting big plays on offense and letting loose with a defense that's finally healthy after being undermanned for much of the year.
So they are playing extremely well. Does that mean Rolle is right?
U.S. & World
Not at all. The 49ers haven't exactly been backing their way through the opposition this season. They beat the Saints up on Saturday and they've been doing that to just about every team they've faced en route to this moment.
That is going to force the Giants to play differently than they've played in their first two playoff games. They easily outmuscled both the Falcons and the Packers, but that's not going to happen this time around. Jim Harbaugh has spent his entire first year installing a tough, confident identity in the 49ers and they aren't going to be cowed by facing a team they already beat this season even if that team is playing significantly better than they were earlier this year.
49ers Offense vs. Giants Defense: Winning will be much easier if they can control the pace of the game. The Giants' defensive turnaround has come about because their pass rush has been able to throw their opponents off their game and the 49ers need to do the same thing this weekend by running the ball well. Frank Gore and Kendall Hunter are both good backs, but the Niners have a creative running game that makes good use of Alex Smith and Ted Ginn to help keep defenses from keying on any one place.
A strong run game will check the Giants' defensive aggressiveness and give Smith a chance to make some throws. That's key, because the 49ers aren't a great pass blocking team and Smith will need time to make things develop. The Saints made it easy to get the ball to Vernon Davis by bringing the house, but the Giants don't blitz that often and they will likely pay special attention to Davis.
That means the wide receivers will have to make plays. They'll have opportunities against a mediocre Giants secondary, especially Rolle in the slot, but Michael Crabtree and Ted Ginn will have to actually catch the ball this week. That's not a given, especially if the forecasted rain and wind arrive at Candlestick on Sunday.
Giants Offense vs. 49ers Defense: Big plays have been playing a big role for the Giants in recent weeks. Victor Cruz and Hakeem Nicks have turned games around by making short completions into long touchdowns, usually with the help of horrendous tackling by the opposition. The 49ers, safety Donte Whitner in particular, are succeptible to that sort of thing which should give Eli Manning chances over the course of the game.
But, like Smith, Manning is going to need some help when it comes to making those plays. The Giants offensive line has not shown the same kind of improvement as the rest of the team and the Niners won't make life easier on Manning by blitzing on Sunday. They need just four players to make life hard on quarterbacks and the Justin Smith/Aldon Smith combo is going to be very hard for the Giants to stop.
Manning has been very good against blitzes this year, but his production isn't as good when facing teams that drop seven into coverage while creating pressure. There aren't easy spots to exploit in the secondary and that can lead to turnovers. Without the same likelihood of a running game checking 49ers aggressiveness, the Giants line will be crucial to their chances on Sunday.
Special Teams: The 49ers have an edge here, but it is hard to feel too confident about their chances if they keep settling for David Akers field goals. Weather is the big wild card here. If the game is played in wind and slop, field position will be a big issue, so a bad punt or short kickoff could swing this game.
Coaching: There aren't enough superlatives available for the job that Harbaugh has done with the 49ers this season, but that isn't enough to sway this matchup in his favor. Coughlin has done a remarkable job keeping his team together in the face of awful loses and has found a way to get them playing their best football at the right moment.
Key Stat: Turnovers were a big reason why both of these teams advanced to this game, and they will likely play a big role in deciding who gets to the Super Bowl. The 49ers have thrived in this department all season as they've avoided them on offense while forcing plenty on defense, as evidenced by Manning's two picks in the 27-20 Niners win earlier this season. In a game that projects to be as close as this one, a turnover could well wind up deciding who moves on to Indianapolis.
Josh Alper is a writer living in New York City. You can follow him on Twitter and he is also a contributor to Pro Football Talk.
Copyright FREEL - NBC Local Media