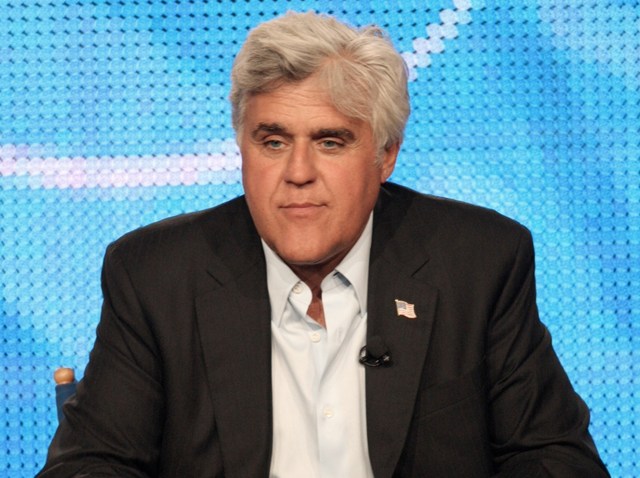 Jay Leno addressed Internet rumors that NBC might ax his prime-time show head on, joking Thursday night on "The Jay Leno Show" that perhaps he should begin reaching out to other networks.
"It's Katie Couric's birthday today and, you know, she left NBC for another network," Leno said of the CBS News anchor. "I've got to give her a call, see how that's working out."
Speaking to bandleader Kevin Eubanks, Leno said: "So far nobody is saying anything to me. But Kev, if we did get cancelled it may give us time to do some traveling. In fact, I understand Fox is beautiful this time of year."
Earlier on Thursday, NBC issued a statement defending its commitment to Leno's program after industry website FTVLive.com had reported the network planned to "pull the plug."
"Jay Leno is one of the most compelling entertainers in the world today," read the NBC statement. "As we have said all along, Jay's show has performed exactly as we anticipated on the network. It has, however, presented some issues for our affiliates. Both Jay and the show are committed to working closely with them to find ways to improve the performance."
The former "Tonight Show" host also referenced the less than stellar ratings his 10 p.m. show have commanded since an initial surge when the program launched in September. Leno's exit from "Tonight" at the peak of his popularity paved the way for Conan O'Brien to take over hosting duties at the prized late-night gig.
"See, it's always been my experience NBC only cancels you when you're in first place – so we're fine," Leno joked. "Hey Kev, what does NBC stand for? Never believe your contract."
Also on Thursday, NBC execs met with Leno and O'Brien to talk about the future of its late-night line-up, The New York Times reported. What they came up with would restore Leno to his 11:35 p.m. start time -- but with a catch, according to the Times.
Citing two senior NBC executives, the paper reported Leno's show would be reduced to a half-hour format, which would push O'Brien's show to 12:05 a.m. for the full hour. Jimmy Fallon's show would then start at 1:05 a.m., the executives told The Times. The new schedule would take effect after the Winter Olympics on February 28th.
"We remain committed to keeping Conan O'Brien on NBC," the network said in a statement to The Times. "He is a valued part of our late-night line-up, as he has been for more than 16 years and is one of the most respected entertainers on television."