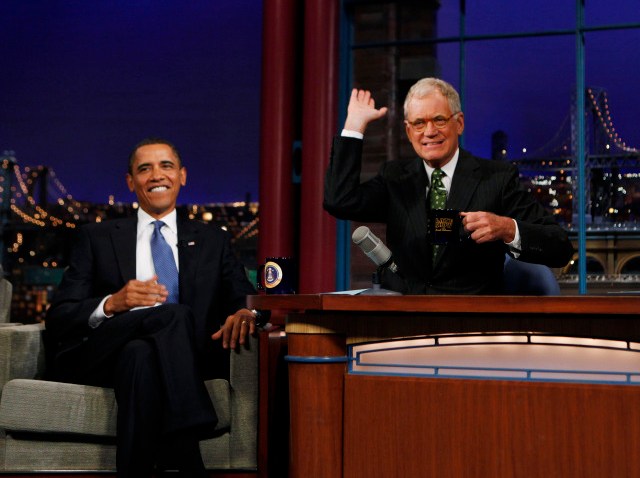 President Obama ended his weekend-long media blitz with a bang on Monday, bringing the presidential funny to late-night titan David Letterman's program after two days of serious political campaigning on TV's major news networks. And for his trouble he left with a heart-shaped potato.
Obama, who appeared on the FOX, CNN, MSNBC, Univision and NBC Sunday-morning talk shows, took a very brief break from policy to crack jokes with Letterman and his crowd, riffing off everything from Jimmy Carter's allegations of racism among the GOP to Letterman's Emmy loss.
"It's important to realize that I was actually black before the election," Obama deadpanned when Letterman asked about Carter's claim that many of the attacks against Obama were based in racism.
"How long have you been a black man?" Letterman riffed.
The "Late Show" host kicked off the show by joking that security was "tighter than Joan Rivers' face" and secret service had even checked under his hairpiece.
Letterman's nightly Top 10 featured a list of reasons why Obama decided to appear on the show. One idea? He did it without thinking -- "like Bush did with Iraq," Letterman joked.
The number six reason Obama showed up -- "we told him Megan Fox would be here."
Number one was that Obama wanted to "congratulate Dave on the big Emmy win." Letterman lost the best talk show Emmy race to Jon Stewart.
The commander in chief got cute with the Letterman crowd during the taping, asking the audience in the notoriously cold studio if they could take the low temperatures. He sweetened the day of one Letterman fan who had brought a heart-shaped potato to the taping, telling the audience member he'd shown up just to get a glimpse of the vegetable.
"The main reason I'm here? I want to see that heart-shaped potato," Obama joked.
The fan later gave the freakish potato to Obama, who called it "remarkable."
But the president didn't stray too far from policy gab -- he spoke with Letterman on the show about Afghanistan, the economy and the ever-present health care issue and also delivered the unfortunate message that unemployment would be a problem for at least another year.
"We're not going to recover overnight," he said. "If we stay the course…I'm confident we'll come back stronger than before."
Americans are "scared of the devil they don't know" when it comes to the new, unfamiliar health care bill, Obama said. He also said all Americans deserve access to some kind of care -- and repeated the idea that the government is responsible for the well-being of its citizens.
Obama also reinforced that he wouldn't make a decision yet about whether or not he'd send more troops to Afghanistan, saying he'd be "asking some very hard questions" to help in aiding his choice.
Letterman also asked about how the Obama daughters spent their summer -- and Obama said they "goofed off" although he couldn't, as president of the United States.
"Others have," Letterman joked.
Obama, who also appeared on Jay Leno's program as the president in 2008, was the first sitting president to appear on Letterman's show. He's been on Letterman a total of five times, four during his presidential campaign.
The show, which saw Letterman's audience give Obama a standing ovation, ended with Letterman telling Obama "how satisfying" it was to watch him work.
"And remember when things get tough," Letterman said, "you sir are in possession of a heart-shaped potato."
Copyright AP - Associated Press