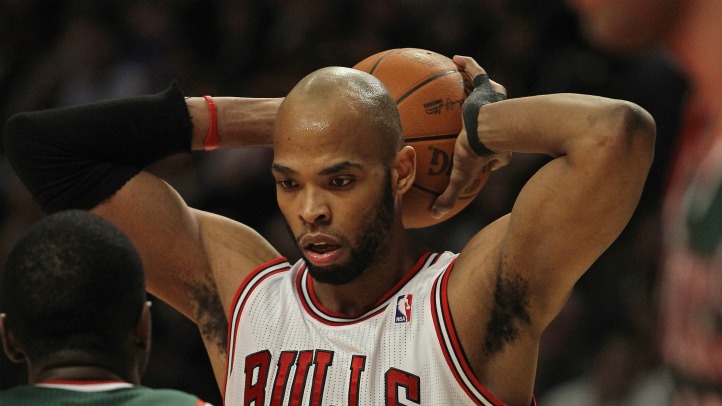 With Taj Gibson's contract status still in the air on the eve of the deadline and both sides reportedly $8 million apart on an extension, one can't help but wonder if Gibson will be traded if the two sides can't come to an agreement.
As many already know, a similar situation just happened with James Harden and the Oklahoma City Thunder. The newest member of the Houston Rockets rejected OKC's offer of what was less than the "max" contract Harden was seeking, so the Thunder – already committed to the large salaries of Kevin Durant, Russell Westbrook and Serge Ibaka – had no other recourse except to trade him away.
Incidentally, the aforementioned Ibaka plays a significant role in the negotiations of Taj Gibson. In August, OKC's athletic (and rapidly improving) big man agreed to a four-year contract extension worth $48 million, essentially setting the market for players at his position.
The $2 million per year that the Bulls and Gibson are apart on doesn't seem like much, until you consider Chicago is already paying three guys well over $12 million per year (Rose, Deng, Boozer) and one, just slightly less (Noah at $11 million).
Theoretically speaking, the Thunder could've afforded to max out Harden but decided that financial flexibility was more important. The Bulls don't have that luxury.
A contract extension for Gibson in the fall means playing the amnesty card for Boozer next summer, which frees up cap space, but doesn't let the team off the hook for the $32.1 million he'll still be owed on his current deal. Will Jerry Reinsdorf be comfortable writing a check that big to essentially pay a guy to go away?
And if Taj isn't extended and plays the season without a new contract (or a Bulls trade), when he's a restricted free-agent next summer, will Jerry Reinsdorf be comfortable writing an even bigger check in July to keep his own player that he could've had for much less in October?
If not, then the Bulls will have lost Taj without getting anything back in return which won't go over very well with a fan base still smarting from what was perceived as a lack of aggressiveness this summer.
Many have called Taj Gibson the Bulls future at the power forward position, but contract negotiations are a funny thing. The only way to appease the fan base on this one is to either re-sign him, or if they can't and are forced to trade him, get a much better player back in any deal; starting with a legitimate second-option on the perimeter to pair with Derrick Rose.